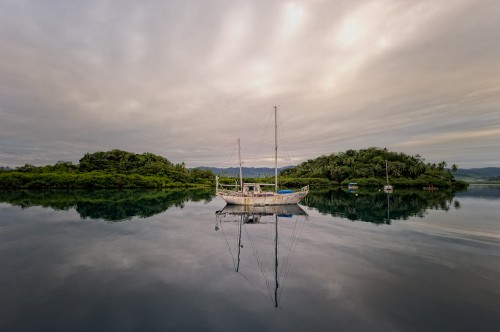 For the past couple of days we've been hanging out in Savusavu, a sleepy little town stretched out along the shore of a placid bay and backed by a hilly landscape dripping with greenery.  A popular hangout for yachts, there are maybe thirty or forty anchored here in the harbor at the moment.  Most are active cruisers but some are derelicts, apparently abandoned, rusted and decaying with ferns growing out of the light fixtures.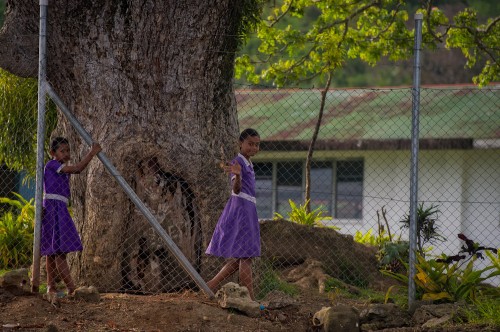 Savusavu is small but with enough amenities to keep everyone entertained, including a yacht club and a squash club, restaurants and bars, shops and banks, a produce market and a handicrafts market, also a resident pearl farm and upscale pearl shop. The Rugby World Cup 2011 is playing on TV and everyone turned out yesterday afternoon to watch the Fiji-Samoa game (Samoa won).  We met one cruising couple from Nogales, Arizona, and another American girl who has been sailing around and around the world for fifteen years non stop, including two trips to Antarctica, the coast of South America, Mexico, and the all the remote spots in the Pacific.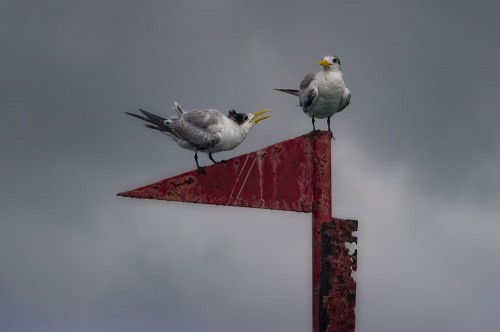 The weather has been grey for the past few days.  I've been entertaining myself in the mornings with long photo kayaking expeditions sneaking up on the terns in the harbor.  They perch on available channel markers, buoys and rafts.  They are fairly well acclimated to boat traffic and I can approach really close by letting the kayak coast quietly towards them without benefit of paddling.  Some of the youngsters are fully grown and feathered out, but can be identified by piteous squawking and posturing as they try to convince mom to share a meal.  In the afternoons Mike and I stretch our legs by taking long walks along the coastal highway.  Lunch and dinner are at the local cafes, giving the crew a break from cooking and dishwashing.
We're off in the morning to Makogai Island with hopes of more awesome diving opportunities.  Internet access will probably fade away for a few days, but we will see. Six years ago on our first visit to Fiji we spent a lot of time scouting out internet cafes and suffering through power outages and snail pace connections. Times have changed; now cellphone service is functional nearly everywhere and the internet blazes along at 3G speeds.  We have a gadget installed on AVATAR called an Ericsson W35 Marine Pack which allows us to plug in any 3G data card from any country and create our own hot spot aboard the boat.  Great invention!
Slideshow of tern photos below. Click on Options, lower right corner, to play flash based slideshow fullscreen.