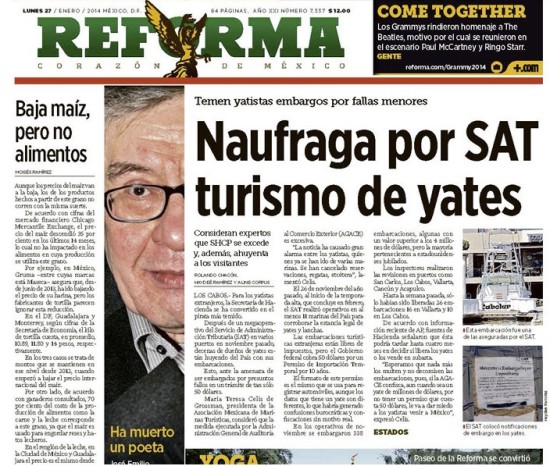 My apologies for the six month hiatus since my last post back in September! AVATAR made a heroic journey cross-Pacific in October on the heels of our last Tongan adventure. The crew sailed non-stop from Vava'u to Honolulu, arriving on the heels of the US budget sequester. They laid over for a week in the Waikiki Yacht Club marina, taking a well-deserved break and also wading through the paperwork required for the yacht to make formal entry into the country. Then AVATAR embarked on another non-stop passage from Honolulu to San Diego. All in all, some 4500 miles in just a few weeks time. An impressive resume for this capable vessel.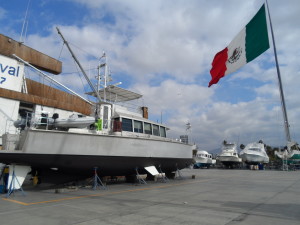 In mid-November, after a couple of weeks in San Diego doing some spring cleaning, Rod and crew sailed 70 miles south to Ensenada, Mexico, to have antifoul bottom paint applied in a boatyard there. That project went well, and in a few days AVATAR was ready to return to San Diego to prep for our next cruising adventure.
And that's when it all went south – literally! On November 26 a Mexican federal taxation agency called AGACE, equivalent to our IRS, raided marinas across Mexico including Marina Coral where AVATAR was berthed. The inspectors were accompanied by three truckloads of heavily armed (as in machine guns) marines. They seized 47 boats in our marina, AVATAR included, and hundreds more across Mexico and placed them all under "precautionary embargo", supposedly investigating whether the boats were legally in the country with the appropriate documentation (a $50 permit good for 10 years is all that is required). Across Mexico a total of 348 foreign owned yachts were impounded and not allowed to leave port!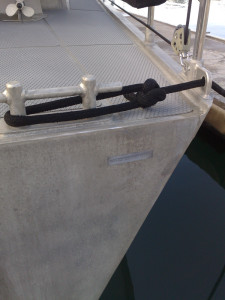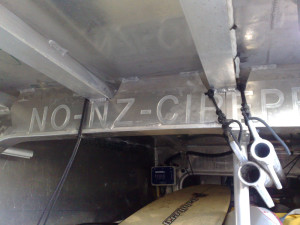 In our specific case the paperwork was in order but the inspectors could not find AVATAR's hull identification number. Take a look at this photo that Rod took in Ensenada days after the 'bust' – on the exterior our HIN is permanently engraved exactly where it is supposed to be on the starboard transom, as well as 3 inch high letters engraved inside the forepeak, also according to regulation! Not only could the inspectors not find the number, they didn't bother to ask to be shown it, even though AVATAR's captain was present and available.
The marina management and attorneys spent months hustling between Ensenada, Tijuana, and Mexico City trying to sort this mess out, but to no avail. Their own businesses were also suffering from the negative publicity. On our own behalf I started contacting Arizona's senators, the US Consulate in Tijuana, our insurance company, and attorneys on both sides of the border in pursuit of a resolution.
In the meantime our cruising plans came to a grinding halt – and the idyllic February trip down the coast of Baja visiting the gray whales en route to Panama – will never, EVER, happen now – as we will never consider cruising (or spending American dollars) in Mexico again. In the meanwhile we kept quiet in the blogging department, not wanting to attract negative attention from the Mexican agencies involved.
Latitude 38, a boating magazine based in San Francisco and a passionate advocate of Mexico boating for more than 30 years, took a more vocal stance. The editor's catamaran 'Profligate' was also a victim of the yacht seizure further south in the Puerto Vallarta vicinity. Latitude 38 published a series of stories escalating in outrage as the fiasco dragged on. The Associated Press released a story on January 10, US, Canadian Boaters Left in Limbo in Mexico, that appeared in newspapers worldwide. Mexico's highly respected newspaper Reforma, made it front page news with a headline that roughly translates to "Mexican IRS makes a shipwreck of nautical tourism".
The raid took place almost four months ago to the day, during which time the authorities followed what they termed 'procedure'. A better description might be 'saving face'. In February word started trickling in that some boats were being 'freed'. But somehow Ensenada and AVATAR wound up on the bottom of the list. This past Friday, finally, we received documents affirming that we had entered the country legally and had been there legally the entire time – AND that we are the legitimate owners of our own boat! The release document is in excess of 100 pages, releasing not only AVATAR but all other boats still impounded. We're on page 95! Finally this brings to an end an embarrassing and very costly episode for Mexico and its tourism industry, which has taken a big hit over this heavy-handed and bungled government action.  As I write this, AVATAR is sailing north out of Mexican waters back to our waiting berth at Kona Kai Marina in San Diego. When I get the word she is safely back in the US, I will hit the Publish button!
Our original cruising plans for 2014 were to head to the east coast of the US, starting from San Diego in early February with a leisurely cruise down the west coast of Mexico, continuing on through the Panama Canal, across the Gulf towards the Caribbean, and up to Ft. Lauderdale. From there Mike and I planned a spring/summer of exploratory cruising up the Intracoastal Waterway from Florida to the Chesapeake, with opportunities to entertain the grandkids on board now that AVATAR was no longer thousands of miles away in the South Pacific.
Instead, this four month hiatus threw the entire schedule into disarray – as we would now be arriving during the onset of hurricane season, not to mention the hot summer weather. So we are still reevaluating our options, but for now it looks like the Pacific Northwest is in our sights for this summer's cruising, and any trips to the east coast are delayed by at least a year. We still need to invest some time into repairs and refitting, now that we have access to the resources needed.
To be fair, this entire unpleasant episode could have been much worse. Our crew was allowed to stay aboard AVATAR and continue to maintain her, and they were free to come and go themselves. Our worst fear – that our boat would be permanently forfeited over to the Mexican government – turned out to be unfounded although it caused us many sleepless nights during the first few months. No money ever exchanged hands – no fines were levied, no hands extended for bribes. I made a few new friends, as I am now on a first name basis with the editor of Latitude 38 and a member of the US Consulate in Tijuana! The attorneys we consulted declined to charge a fee, both saying they were doing the other a favor! Ensenada is a reasonably pleasant place to spend the winter months, as Rod compared his detention there to being 'locked in a golden cage'.
If you are interested in more details about the scenario, I'm including links to the majority of the stories published.
Dec 20 – Latitude 38 Is Mexico Committing Nautical Suicide?
Dec 23 – Latitude 38 Foreign Yachts in Mexico Update
Dec 30 – Latitude 38 The Latest on 'Impounded' Boats in Mexico
Jan 33 – Latitude38 Why Mexico is Still a Third World Country
Jan 8 – Latitude 38 The Poop From Impounded Boats in Mexico Hits the Fan
Jan 10 – Associated Press US, Canadian Boaters Left in Limbo in Mexico
Jan 10 – Latitude 38 Foreign Boat Impoundment Story Goes Mainstream
Jan 15 – Latitude 38 Hundreds of Foreign Boats Remain Impounded in Mexico
Jan 17 – Latitude 38 The Dreadful Impoundment Fiasco in Mexico Endures
Jan 22 – Latitude 38 The Latest Update on Impounded Boats
Jan 27 – Latitude 38 Mexico Puts Lipstick on a Pig
Jan 28 – Latitude 38 'Mexico's New York Times' Blasts Mexico's IRS
Jan 30 – Latitude 38 Breaking News on Boats Impounded in Mexico
Feb 3 – Latitude 38 Thirty More Foreign Yachts "Liberated" in Mexico
Feb 5 – Latitude 38 More Impounded Boats "Liberated" in Mexico
Feb 7 – Guadalajara Reporter Mexico 'Frees' Impounded Boats Amid Huge Damage to Nautical Tourism
Feb 14 – Latitude 38 More Impounded Boats To Be Released
Feb 17 – Latitude 38 Finally, Solid Numbers on Impounded Boats
Mar 3 – Latitude 38 The Fiasco South of the Border Isn't Over Yet
Mar 5 – McClatchy DC U.S. Boat Owners Still Struggling With Fallout From Mexican Tax Investigation
Mar 24 – Latitude 38 Finally Release of Boats from Ensenada