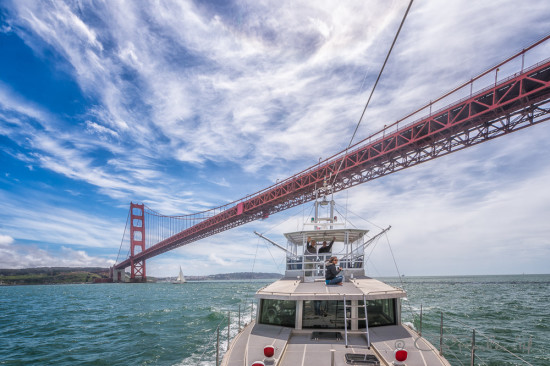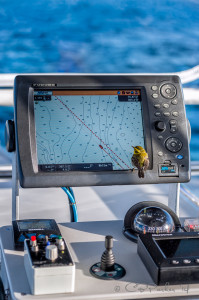 After the long dry spell impounded in Mexico, AVATAR is on the move again! Once safely back in San Diego we attacked the backlog of repair and refit projects in express mode and finally, better than new, hit the sea lanes heading north to Seattle. In case Captain Rod's skills were a bit on the rusty side, we hired on a new navigator to steer us through the tricky parts. Meet the newest addition to our crew, Captain Jack Sparrow;-)
Thurs April 29 – We sailed from San Diego to Marina del Rey where we spent the night, then departed at first light the following morning. There was an amazing amount of sea life near Marina del Rey, flourishing directly beneath the approach pattern for LAX!  Heading north we had frequent sightings of humpback whales including a breach, and I got a brief glimpse of my very first Orcas in the wild. Several times we were accompanied by exuberant pods of dolphins, both Bottlenose and (another first) Pacific White-Sided Dolphins. I was particularly pleased with these three images I managed to capture of the latter!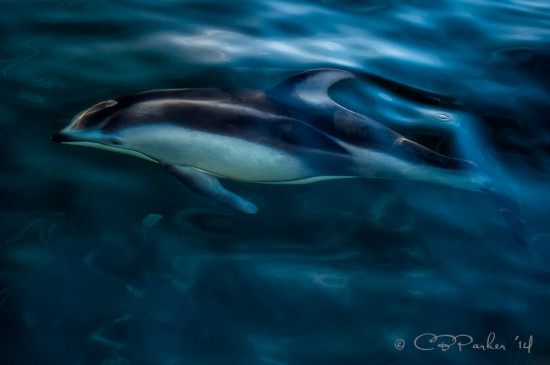 We're trying to make good time, having been forewarned that once the Pacific High sets in over the summer months, this northbound passage can get pretty unpleasant or, at worst, impossible.  Our wind and wave conditions were so favorable we made an on-the-fly decision to press on, bypassing Morro Bay and making an overnight passage to our next stop, Monterey. In Monterey we enjoyed a couple days sightseeing as the marina was in walking distance of Cannery Row and historic Old Town Monterey. At night we slept to the background chorus of hundreds of barking harbor seals who apparently don't sleep.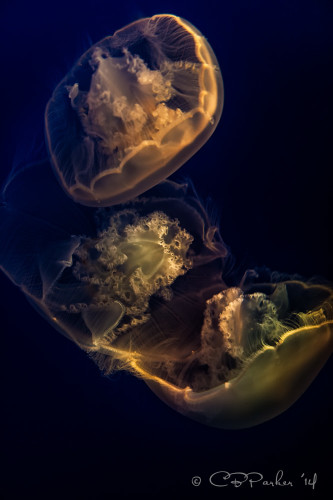 The awesome Monterey Bay Aquarium is a must-see. The jellyfish are mesmerizing and, no, this photo was not taken in the water! Water temps are in the 50s, a far cry from the South Pacific's 80 degree average, and I firmly believe our scuba gear is retired for the duration. Mike is having flashbacks to earlier decades when we raced small yachts in Northern California; recounting his memories of past regattas at each whistle stop as we sail past! My most vivid memory of sailing in these parts is capsizing in a Snipe race in San Francisco Bay and being so cold, even though promptly pulled out by the Rescue Boat, that I couldn't hold a cup of coffee in my shivering hands!
From Monterey it was a daysail north into San Francisco Bay, making our grand entrance beneath the span of the Golden Gate Bridge before heading to the eastern shore of the Bay to spend a few nights in Sausalito. Here we were expecting a layover of nearly a week until a weather system with strong offshore winds subsided, but the forecast changed and shortened our visit to three days.
Gung ho sightseeing in the Bay Area started with a three mile hike to Cavallo Point Lodge, situated on the grounds of historic Fort Baker, for a view of the lodge's art exhibit of life-size whale photographs taken by Brian Austin. We enjoyed an elegant lunch on the restaurant deck and then, apparently victims of excessive adrenalin (or boat cabin fever), we all elected to continue on and hike across the Golden Gate Bridge to the San Francisco side. In the city we took a quick tour of the Japanese Tea Garden in Golden Gate park before gratefully flagging down a taxi to transport us to the Ferry Building to catch a ride back to Sausalito. The walk from Sausalito's ferry dock to our marina home base was an additional mile. Altogether my iPhone GPS says we walked 8 1/2 miles that day!
Sausalito is a charming destination town full of quaint shops, art galleries, and great (but pricey) restaurants. It is also home of the Bay Model, an impressive 1 1/2 acre working model of the currents and flow of the waters of San Francisco Bay and surroundings. Construction of the model was funded initially by Congress in the 1950s to study the effects of a proposal to completely dam up the Bay and turn it into a freshwater reservoir serving the water needs of California! Fortunately the Bay Model proved the folly of what would have created a massive environmental disaster and the plan was abandoned.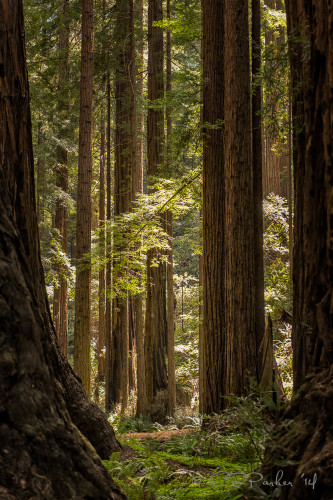 On the outskirts of Sausalito the landscape quickly transitions to beautiful rolling countryside. Mike and I rented a car and spent a day in the coastal redwoods of Muir Woods, followed by a brief drive to the top of Mt. Tamalpais for a spectacular overview of San Francisco Bay (another flashback moment).
San Francisco was Mike's getting-off point, so at 5:30 a.m. Thursday morning we dumped him unceremoniously off the boat to make his own way (rental car) to SFO and a flight home, while I stayed on board with Rod and May and the three of us sailed away under the Golden Gate Bridge in beautiful dawn light. It turned into an awesome photo op and I was amazed at the variety of images I was able to capture of this iconic structure. We had been warned of rough patches of water exiting the Bay but again, due to good weather and Rod's impeccable planning, we enjoyed light winds and smooth water with following waves, a good recipe for keeping the photographs in focus!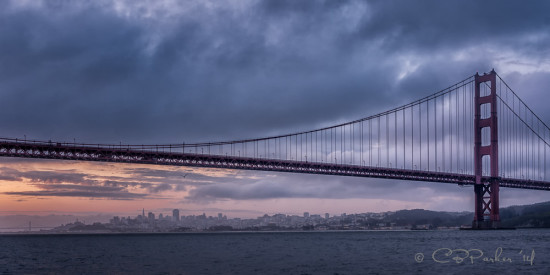 Click on the first image in the thumbnails below to start a full screen slideshow of the previous photos and more.