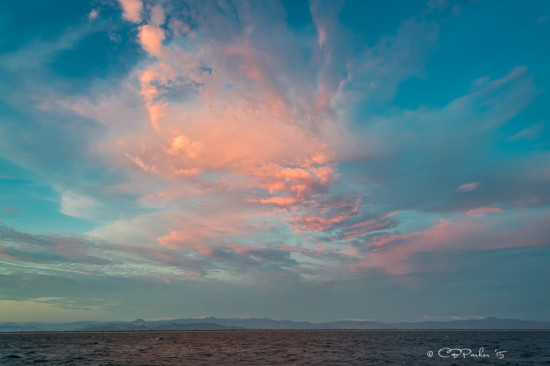 Another night watch in the wee hours of Monday morning. A half moon is up, lighting a path in the water. It rose about 10:30 pm and before then, without its glow to dampen them out, the stars were spectacularly brilliant in a black sky free of light pollution. And before that, a stunning sunset stretched from horizon to horizon, an unobstructed display of color ranging from the most delicate pinks to a blazing brassy gold.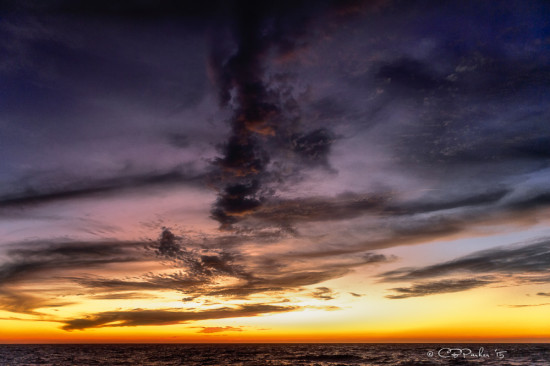 I'm up in the flying bridge because the night is too pleasant to spend in the confines of AVATAR's salon. I can see the lights of two other yachts that have been within a few miles of us all this day and night, one a 45 meter motor yacht D'Natalin IV and the other a 35 meter sailboat named Manutara (thank you, AIS), both obviously headed like us to Panama via Puerto Madero. The Frigatebirds have joined us again for their free ride. Interestingly enough, they only perch on the port side boom. Even when it gets crowded and latecomers have to squabble for landing privileges, they reject the starboard boom totally. The only real difference I can guess at is that the port side is closest to land. In addition a flock of white seabirds, gulls or terns, have been flying around the boat, glowing a ghostly white when they pass through the beam of the light on our our foremast.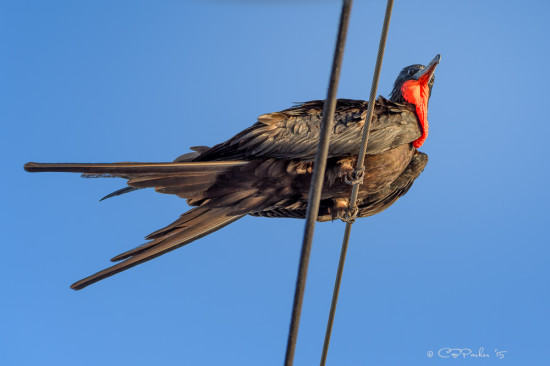 Currently it's a smooth ride with a balmy breeze, welcome after our T-pecker bash of yesterday. Sunday morning appeared to offer the best weather window of the past two weeks for tackling the 250 mile stretch across the windy Gulf of Tehuantepec. We sailed out of Huatulco's Marina Chahué at the very crack of dawn in smooth water with only a breath of wind, and took the conservative route by staying close to shore and following the curve of the land to stay in the wind shadow. Even so, for most of the day and into the evening hours, we were in persistent 30 knot winds, gusting almost to 40, bashing head on into steep, abrupt, white capped seas with an opposing current making things worse. We've been spoiled by AVATAR's level way of going after our sailboat days, but pretty soon anything susceptible had been moved to the floor for safekeeping and a pillow had been stuffed into the kitchen cupboards to stop the china from clattering.
Occasionally there are a few scattered lights along the shore, but mostly the stretch of coastline has been wild and empty. We passed an occasional wind farm (great location for them) and earlier tonight in the dark smelled the smoke and watched through our binoculars the flames of a huge conflagration raging on the beach near a lagoon named Mar Muerto, presumably a wind-fueled wildfire.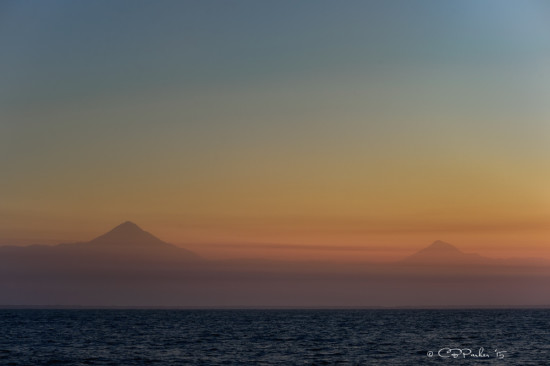 Yesterday afternoon we did weave our way through Salina Cruz, a major oil port. There is a massive refinery on the beach and a dozen huge oil tankers were anchored just offshore waiting in turn to fill their holds with oil that has been transferred across the isthmus from the Caribbean side, refined, and now to be piped aboard for export presumably overseas. Adding to the congestion were multiple tender boats and a fleet of shrimp boats heading home from working the shrimp beds nearby. The worst of the wind occurred at Punta Ventosa just past Salina Cruz. After we passed through, conditions quieted and we enjoyed a brief period of smooth sailing, congratulating ourselves, before the wind and the unsettled waves fired up again in the dark of early evening, and demanded closer attention.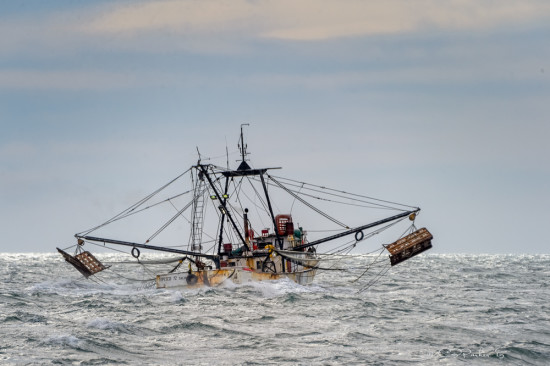 We expect to reach our next destination, Puerto Madero, by mid Monday morning. Puerto Madero is Mexico's southernmost port, only 12 miles north of the Guatemala border. We'll clear in and out, hose the salt spray from AVATAR's decks and windows, and spend a peaceful two nights with sleep uninterrupted by a rough ride and midnight watches, then continue on our way Wednesday morning, marina hopping down the Central American coast towards Panama.
Click any photo below to start a slideshow.