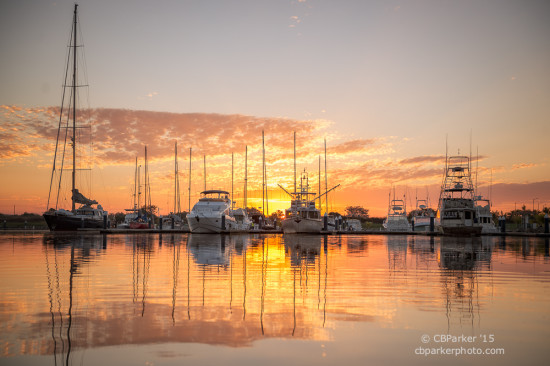 We are still heading south and east, having entered Nicaraguan waters as I write. Our last port of call in Mexico was Marina Chiapas in Puerto Madero, only 12 miles from the Guatemalan border, where we stayed for 2 nights after our Gulf of Tehuantepec transit.
Each stop at a new port entails a thorough customs procedure, whereby we are met by a platoon of officials and marines to check our credentials and process both our entry and exit paperwork. In Chiapas we were greeted by seven uniformed officers, of which five crowded into AVATAR's salon to handle the paperwork and inspect the boat, while the remaining two stayed on deck, one armed with an M16 and the other handling his drug sniffing dog, in this case a Belgian Malinois. All were friendly, courteous and professional, with smiles and a handshake all around, also a warning in Spanish regarding the dog – 'muerde, muerde' (she bites!).
Our rudimentary Spanish and their limited English sufficed to get us through the formalities with minimal confusion, although it helped to keep a sharp ear open for misunderstandings such as 'The name of your boat is Tucson, sí?' Two days later, when we were ready to depart, the same contingent returned for a repeat of the exercise. And on the middle day, helpfully accompanied by a marina employee who knew the ropes and was fluently multi-lingual (there were yachts from eight different countries in the marina during our stay), we also spent a couple of hours at the Aduana (customs office) waiting our turn to process more paperwork.
Puerto Madero has an attractive and modern marina, tucked away down a mangrove lined side channel out of sight from the sprawling main harbor which also houses a Naval base, a cruise ship terminal, a fishing fleet port, and a Nestles instant coffee plant. We had trouble even finding it, until a small boat from the marina came out and waved us in. Looming on the horizon are two volcanoes. The largest, Volcán Tacaná, is 13,484 feet in height with half its roots in Mexico and the other half in Guatemala. Both are active, the smaller venting smoke and ash on occasion, and Tacaná, which last erupted in 1986, currently sealed off but responsible for the 200 earthquakes a year that rattle the area. In fact, we were told, we slept through a 5.0 tremor at one a.m. the night of our arrival, After our bouncy 36 hour trip we were all too sound asleep to notice! And, yes, earthquakes can be felt from aboard a boat. As we proceed down our route, a never ending string of volcanoes continues to dominate the shoreline.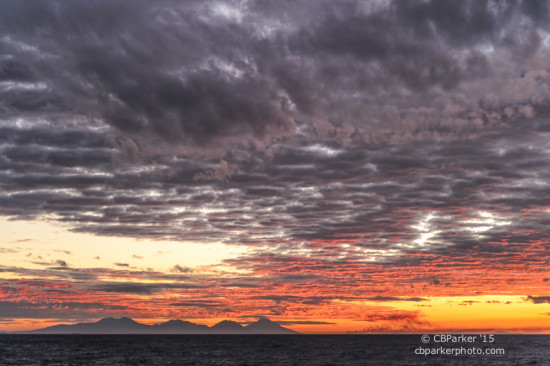 I did manage to wake early enough our first morning in Chiapas to engage in bird photography via kayak, paddling down to the juncture of the waterways where all the facilities are located. My version of birdwatching is to photograph the different birds I encounter, and when I get a 'keeper' only then can I check another species off my list! Puerto Madero offers a wealth of waterbirds, primarily a large assortment of heron types, but also pelicans, gulls, terns, swallows, buzzards and flocks of small green parrots. I spent 3 hours paddling about in the early morning hours sneaking up on the herons and trying to catch the pelicans dive bombing for fish breakfast, but my favorite photo of the day was the buzzard – who would have guessed!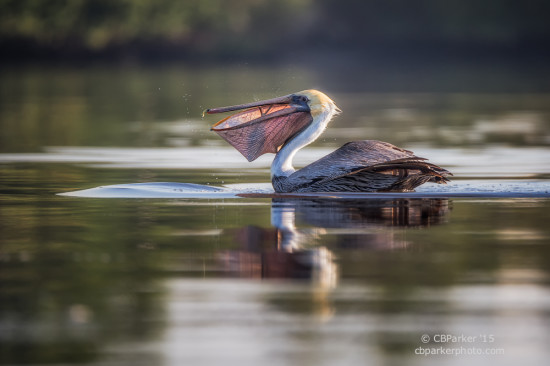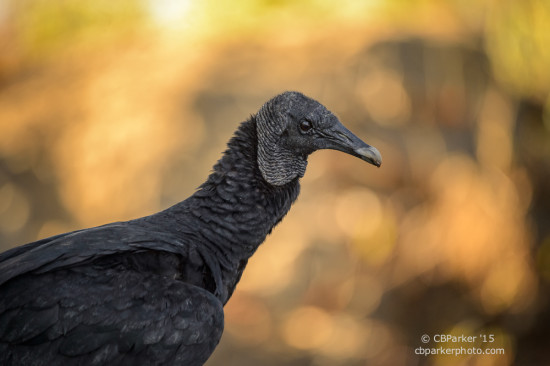 This trip is primarily a delivery passage rather than a cruise, although at a somewhat leisurely pace, allowing for brief rest stops at marinas along the route. Rod calls it marina-hopping. We crossed Guatemala off our list when a passing yachtsman gave us a negative review of the marina there that was to be our next stop, so we revised our plans and bypassed that country entirely, pulling another overnighter to the next destination on our list in El Salvador.
En route I was introduced to a new night watch technique as we navigated through areas populated by longline fishermen. Even though we were sailing several miles offshore, the depths were shallow enough that we could have dropped anchor anywhere along the way. The longlines are weighted fishing lines with hooks, suspended from small buoys marked by a flag. The local fishermen attend the lines all night long, miles from shore, floating in their small unlit open boats called pangas. The challenge for us, sailing in the dark through a fleet of these, is to watch carefully for the dim blinking light, often obscured by waves, that marks a longline. If a fisherman in the attending boat feels threatened by our approach, he will shine a flashlight beam in our direction to alert us to the presence of his otherwise invisible boat. Our response is to flash a beam of light back at him with a handheld spotlight acknowledging that we see him, then change course by 10-20 degrees to detour around him, returning to our course after ten minutes or so, all the while hoping that no one has fallen asleep, lost his flashlight overboard, or had the batteries go flat!
When not concentrating on longline fishermen, night watch provides inspiration for blogging, with no visual distractions except the black sky and the electronic navigation charts and radar dimmed into night mode. The steady hum of the John Deere engine and the rhythmic swoosh of water passing under the hull create a background white noise that allows my stream of consciousness to take flight and soon phrases for future blogs start running through my brain. Typing on my iPad captures those phrases before they are forgotten, and doesn't distract from keeping an eye out for passing ships in the night.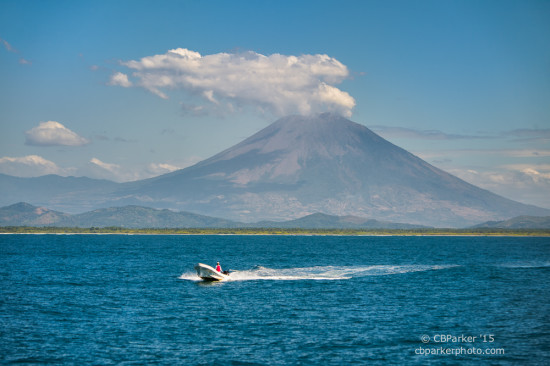 Approaching the El Salvador coast provided another navigational variation as the marine club of Puerto Barillas is located 9 miles up a wide mangrove lined waterway. The entrance to the river from the sea snaked through an estuary of shallow shifting sandbars and breaking waves. Here we radioed ahead to the marina and they sent out a pilot in a panga to lead us through the tricky entrance channel and upriver without hitting bottom. AVATAR draws five feet, a relatively shallow draft, but at the shallowest bit we probably didn't have more than another couple of feet under our bottom, even though we arrived near high tide. Our departure three days later necessarily had to be closer to low tide in order to arrive at our next port of call before dark, so Rod invested some time in serious study of tide tables, distances, and our previous recorded track to plan his strategy. The marina again provided a pilot to lead us out, so despite our concerns we made it to deep water without issue.
Long enough for one blog…more tomorrow.
Click on any photo below to open a full screen slideshow.