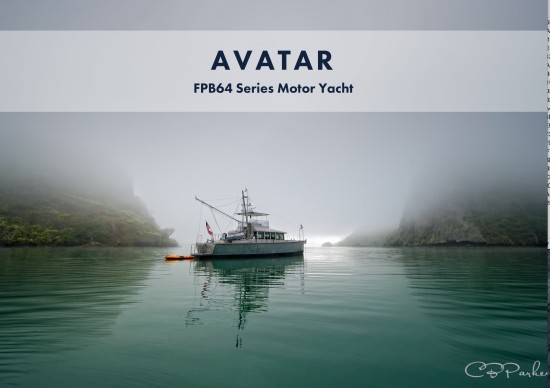 We are currently celebrating our 5th anniversary cruising aboard AVATAR since launching in New Zealand spring of 2010! At the moment we're sailing up the east coast of the U.S. and, as usual, attracting a lot of attention from the yachting community. I made the suggestion to Dashew Offshore that they should provide FPB owners with sales literature that we could hand out to interested passers by. And yesterday Adobe released a new iPad app called Adobe Slate designed for easy creation of web based magazine-like stories with professionally themed layouts and design.
Putting the two together, I decided to create my own FPB64 AVATAR informational brochure as an experiment. It came together beautifully, although the limitations of the app quickly became apparent. Presumably it will become more powerful as the software matures.
At any rate, in honor of the completion of five years of cruising aboard AVATAR, I thought I'd take the opportunity to brag on the boat a bit. You can read the Adobe Slate version by clicking on the cover image above, or enjoy basically the same presentation below.
For further information on the Dashew philosophy of boat design and full details regarding the range, see the website for Dashew Offshore at www.setsail.com. To follow AVATAR's adventures, see the photojournal blog at The AVATAR Logs website www.avatarlogs.com. Link buttons to both are at the top of this page. 
Sales inquiries may be directed to: 
     Dashew Offshore – Todd Rickard at toddr@setsail.com 
     Berthon International – Sue Grant at sue.grant@berthon.co.uk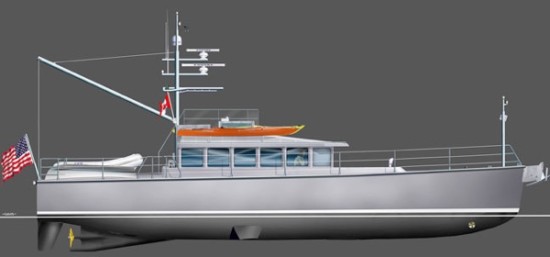 AVATAR is the first of a series of FPB64 passagemaker motor yachts designed by Dashew Offshore in the United States and built in New Zealand by Circa Marine. AVATAR was launched in Spring of 2010 and, as of her fifth anniversary, has completed 36,000 nautical miles of bluewater cruising and has cleared in to 17 different countries including (in chronological order) New Zealand, Fiji, Tonga, New Caledonia, Vanuatu, Solomon Islands, Indonesia, Philippines, the west coast of the U.S. from Hawaii to San Diego to Seattle, Canada, Mexico, Nicaragua, El Salvador, Costa Rica, Panama, Jamaica, Bahamas, currently the east coast of the U.S. – and she is still on the move. Another FPB64, Grey Wolf, completed an epic maiden voyage In 2014 by sailing virtually nonstop 12,000 NM from New Zealand to Great Britain by way of the Panama Canal.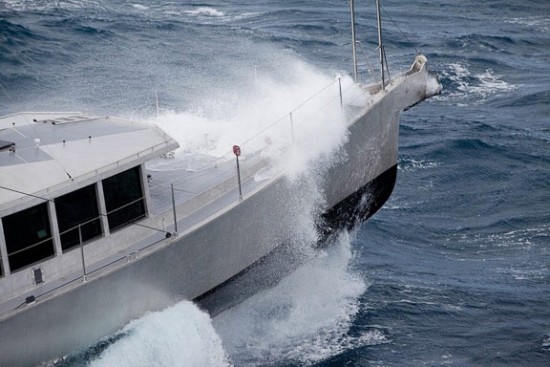 The first FPB (Functional Power Boat) was the 83′ prototype Wind Horse, followed by the 64 series of which there are now eleven. Iceberg, a 97 foot model, launched in 2014. Three 78s are under construction with the first launch scheduled for late 2015. All are designed based on principles originally applied to the iconic Dashew designed circumnavigation sailing yachts, which include Deerfoot, Sundeer, and Beowulf. All are ideally suited for short-handed cruising comfortably over long distances, efficiently and safely.
At a cruising speed of between 9 to 9.5 knots an FPB64 has a range of 5,500 to 6,400 NM. Diesel fuel capacity is 3,400 gallons and freshwater storage is 1,800 gallons with an on board watermaker to make more. The fuel and water are stored low in the hull for ballast, contributing to stability and self-righting capability. Power is provided by one 235 HP John Deere engine but a second 'get home' engine is included for an added measure of security. Hydraulic Naiad stabilizers contribute to the smooth ride, even in rough seas. Waterline length before adding the stern extension is 64′. Beam is 17′ and depth is 5′.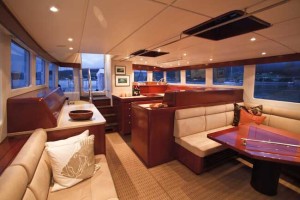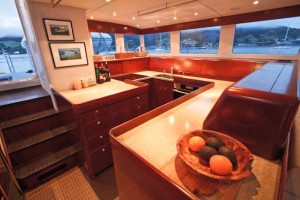 The rugged aluminum exterior belies an elegant, comfortable interior that contains a master suite, a guest (or crew) cabin, and a single bunk cabin (affectionately known aboard AVATAR as 'the closet'). There are two heads with showers, an office, a galley which features full-sized washer and dryer units in addition to sink, induction cooktop, combination convection/microwave oven, refrigerator, two freezers, dishwasher, and trash compactor. The roomy salon features a lift-up flat screen TV and has a panoramic view of the sea through continuous wrap around windows on three sides, as well as a navigation station with a full complement of electronics. The huge walk-in engine room is a mechanic's dream. Generous storage is provided both in the forepeak and also in the 'basement' below the salon and galley, as well as lift-up cupboards, drawers, and hanging closets throughout the yacht interior.
The exterior features a flying bridge with comfortable seating, a great view, and additional electronics. The aft deck has room for on board storage of a dinghy (on AVATAR we have two) which can be launched by the lifting booms on either side, also a barbeque, fish cleaning station with sink, stern extension platform, and warm water shower.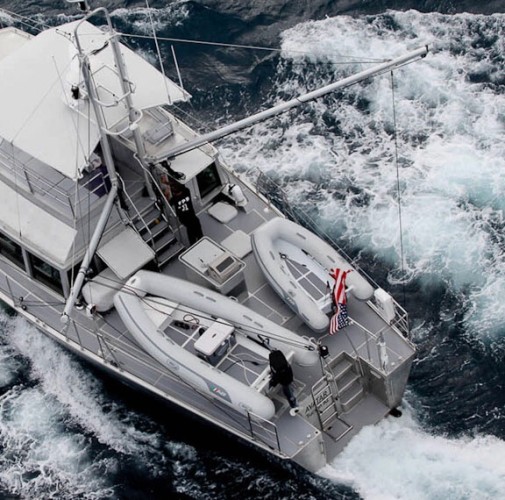 LOD 64.95′ / 19.85m
LWL 63.6′ / 19.4m
Beam Deck 17.04′ / 5.22m
Extreme Beam (edge of rub rails) 17.72′ / 5.42m
Draft at half load (75,000 lbs/34 tons) Canoe Body 3.25′ / 1m
Draft at half load (75,000 lbs/34 tons) Prop Skeg 4.5′ / 1.37m
Full displacement 90,000 lbs /40,800 kg
Air Draft (top of masts-excluding whips) 25.75′ / 7.85m
Fuel Capacity 3400 US Gallons / 12,800L
Fresh Water Capacity 1800 US Gallons /6800 L
Minimum Range of Positive Stability 130-degrees (half fuel in one tank, full fresh water tanks)
Cruising Speed 9.25-10.0-knots
Top Speed 11.0 knots
Approximate Range 9.0 knots – 6400 NM
9.5 knots – 5500 NM
Note: speeds/ranges are for smooth water, 75,000 pound displacement, clean bottom
Click any image below to open a full screen slideshow.