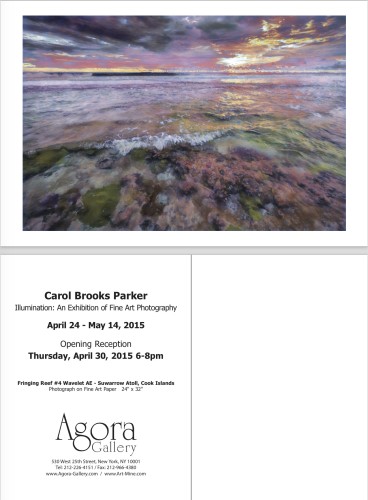 If you will be in the vicinity of New York City the end of April, I'd love to see you at the Artists' Reception at Agora Gallery, where I'll be exhibiting six new works.
Agora Gallery is a contemporary fine art gallery, established in 1984 and located in Chelsea, New York City's premier arts district. Agora has a solid reputation and loyal customer base and it is flattering to be included in their stable of artists.
This will my second exhibition at Agora. Last year's reception was packed with art aficionados and it was a great experience to make my debut in the New York art scene. I'm looking forward to the repeat trip. The exhibition is titled Illumination: An Exhibition of Fine Art Photography, and unlike last summer's exhibition which showcased a variety of media, this show will be devoted strictly to photography. Also the gallery has expanded, adding a new ground level showroom to its exhibit space.
The show will be up from April 24 through May 14, and the Artist's Reception will be on the evening of April 30. I'll be there! Let me know if you can make it.