Cruising up the Intracoastal Waterway in the spring of 2015 aboard AVATAR, we were forced to take shelter at a marina as Tropical Storm Ana, the first named storm of the Atlantic hurricane season, worked its way towards landfall in the Carolinas, targeting our exact whereabouts. We selected a location named Barefoot Landing just north of Myrtle Beach, South Carolina, and tied up securely with our mooring lines. Then it was a matter of waiting to see how bad the weather would turn out to be.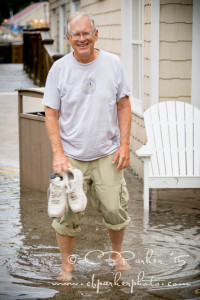 As it turned out, Ana took her own sweet time in arriving and we waited several days for the storm conditions to materialize, which gave us time to explore the neighborhood. Ana did eventually come ashore as a full-fledged tropical storm and dumped buckets of rainwater, more than 6 inches worth, in North Myrtle Beach where we were berthed. Fortunately the storm lacked the accompanying hurricane force winds that we were worried about, so we were able to comfortably ride out the deluge aboard the boat, reading books, surfing the web, and watching the rain pour down from heavy grey skies.
Unlike the quiet backwaters of our journey, Barefoot Landing offered a destination mall right next door to the dock with plenty to keep us entertained, including over 100 shops and restaurants, one of the largest reptile farms in the world, an educational tiger preservation exhibit with live tigers, a House of Blues, dinner cruises on a riverboat, bumper cars, an old-fashioned carousel, and a huge biker rally taking place in the parking lot.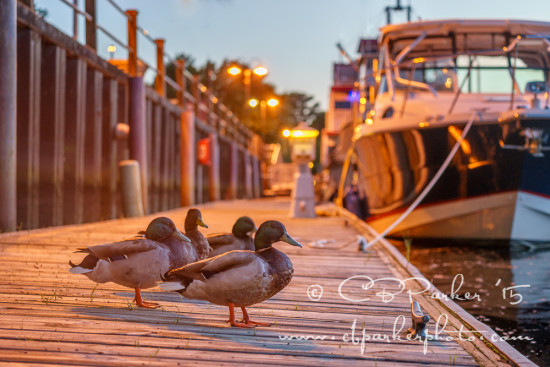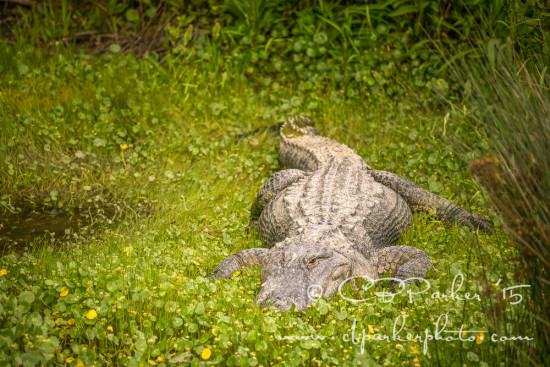 On an evening stroll, camera in hand, I was drawn to the spinning merry-go-round as it entertained the children, and I started snapping a few photos. Soon I was immersed in the color and motion, trying to capture the essence of these beautifully carved creatures. The original carvers must have been true horsemen as well as accomplished artisans to capture with such fidelity the body language of living horses. From quizzical to panicked, from collected to runaway, each horse resonated with its own personality. The lifelike glass eyes were full of expression, and the chipped paint only added more character.
Back on my computer, I researched the Barefoot Landing carousel and learned that it was created in 1990 by the Fabricon Carousel Company in New York, a company that builds new carousels and restores antique carousels as well. The 44 foot diameter Barefoot Landing carousel carries precise resin cast replicas of carvings created by American master carousel carvers from the turn of the last century, including Illions, Dentzel, Muller, Herschell-Spillman and Looff. You, too, can commission your own carousel. Check out Fabricon's website at http://www.fabriconny.com
Click any image below to start a full screen slideshow:
NEW FEATURE:  I've always intended to make books from The AVATAR Logs to document our many cruising adventures. Finally I have found a resource that appeals to me, so I've begun the rather lengthy process of working backwards through the years. My first book to be completed is ICELAND, which now serves as a template for those to follow. Also completed are CAROUSEL and THE AVATAR LOGS: 2015 Barefoot Landing.
Previews of the books can be played online at no charge, and print and ebook copies are available to purchase. Books have been created in small squares measuring 8″ x 8″, large squares measuring 12″ x 12″ with spiral binding, and digital ebook format for reading on an iPad or downloading a PDF. Ebook copies are included at no extra charge with the purchase of the 12″ square book..
The AVATAR Logs: Barefoot Landing 8×8
Photographer Carol Brooks Parker and her husband have been cruising aboard their boat part time for more than ten years, covering a range to date of 36,000 miles and 18 countries. She writes about their cruising adventures and occasional side trips in her blog, The AVATAR Logs, giving each post the…
The AVATAR Logs: Carousel 8×8
Photographer Carol Brooks Parker and her husband have been cruising aboard their boat part time for more than ten years, covering a range to date of 36,000 miles and 18 countries. She writes about their cruising adventures and occasional side trips in her blog, The AVATAR Logs, giving each post the…
SLIDESHOW – Click on any thumbnail to open