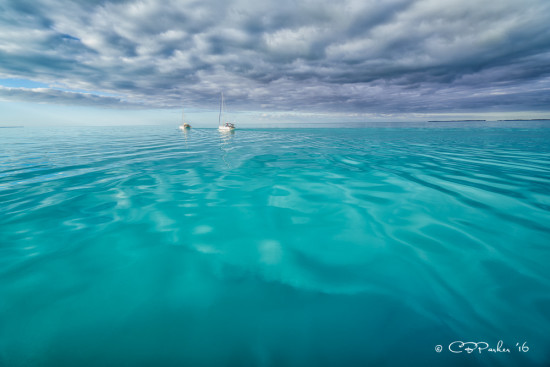 Most of our trip we've been playing cat and mouse with the weather, one day pouring rain, the next day gusting winds, as we continually monitor the forecast to find a weather window in which to move on to the next destination. However we've enjoyed consistent Internet, which makes it hard to complain as we kept up to date on the historic blizzard slamming the east coast. Our fractious weather is a result of the far fringes of that massive storm.
Wind kept us in Hopetown for several days, but as soon as it eased up we hopped over to Little Harbour, a funky little settlement with quirky Bahamian bungalows, each obviously owned by someone of unique character. We had hoped to dine at Pete's Pub, but it was closed amidst full on preparations for Pete's 22nd Annual 50th Birthday Party! Signs posted along the roadway said "Save LIttle Harbour" and we can only imagine another Florida type development (see Schooner Bay, below) threatening the charm of this little hideaway. Surprisingly, the work of a world famous sculptor who once lived here, and whose family carries on, was on display in a gallery (also unfortunately closed) adjacent to the marina, with the foundry just around the corner.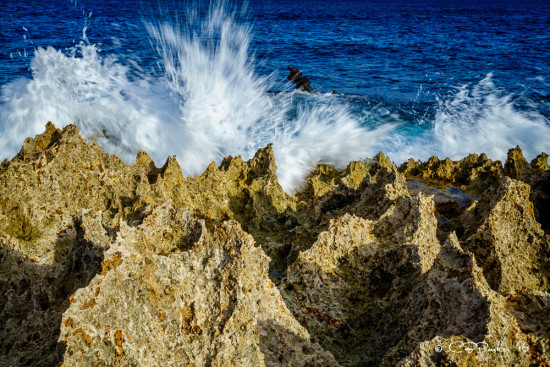 Our next stop was Schooner Bay, the complete opposite of Little Harbour, an upscale but eerily empty development that looked like a Florida retirement subdivision fronting on man-made waterways. For exploration the island featured the nearby 'Iron Shore' where an old shipwreck lies submerged on the jagged rocks. Trying to photograph it, I had to very gingerly navigate the treacherous spiky shoreline. If I hadn't had my walking stick with me, I wouldn't have been able to manage it, as three legs were definitely superior to two. Wanting to get low for my shot, I gingerly perched on a carefully chosen tooth of limestone, fervently hoping it wouldn't puncture a hole in my breeches and backside! Apparently the shipwreck happened on October 1, 1908, when the British steamer SS Hesleyside was caught in a hurricane. Having lost all ability to control the ship in the heavy weather, the captain let out his anchors to ride out the storm, but in an hour or so the anchor chain gave way and the ship was driven on to this unwelcoming shore. Everyone aboard survived, but I can imagine the bloody lacerations incurred as they abandoned ship and struggled to higher ground in raging hurricane force winds and surge.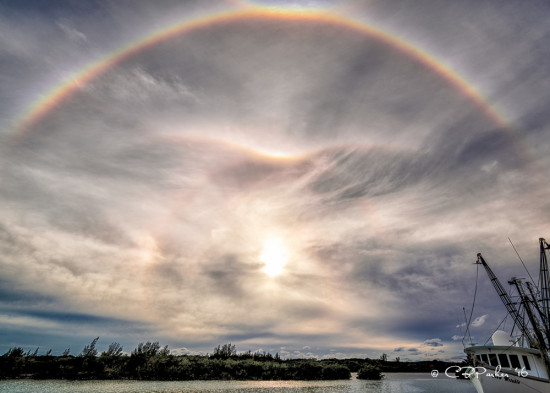 Our next destination was Spanish Wells, an island so named because it was the last stop for Spanish galleons returning to Europe. They topped off their water supplies here from wells dug for the purpose. Again, golf carts were the accepted mode of transportation. We rented one and toured the island on our first afternoon, but after that walked everywhere as it was only about 3 miles long and everything was close by. Soon after our arrival the predicted rain set in and it poured off and on for 24 hours, preceded the afternoon prior by a most amazing display of sundogs – rainbow colored interlocking arcs and patches of light stretched across the entire sky.
After the rain, when the skies partially cleared, the wind filled in at thirty knots gusting to forty. Rather than stay cooped up on the boat again, Mike and I elected to take a day trip to nearby Harbour Island. We caught the big high speed ferry that makes the round trip daily from Nassau to Spanish Wells to Harbourtown and back again. Wind and surging waves made it hard for the ferry to tie up to Harbourtown's concrete sea wall, and as soon as all the passengers disembarked it made a hasty departure and we were informed it would not be returning for the afternoon run and that we would be taking alternate transportation home.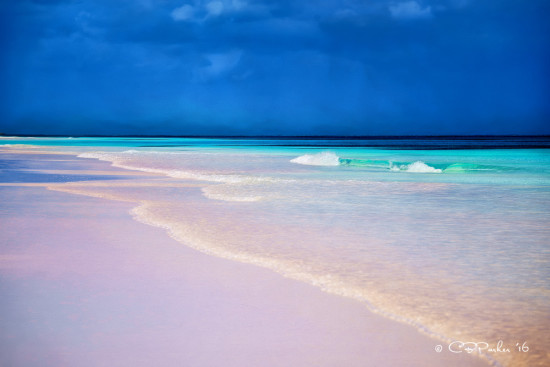 Harbour Island is an inviting destination, with history dating back more than 300 years, and a mix of Bahamian local shops and casual takeout elbow to elbow with chic boutiques and upscale restaurants. The guidebooks advise not to be surprised if you cross paths with the rich and famous such as Mick Jagger or Diane Von Furstenberg (neither of which I would recognize face to face). The island possesses a famous pink sand beach considered to be one of the ten most beautiful beaches in the world. Fortuitously, due to the wind direction, on this day the Pink Sand Beach was tranquil and calm, protected in the lee of the island.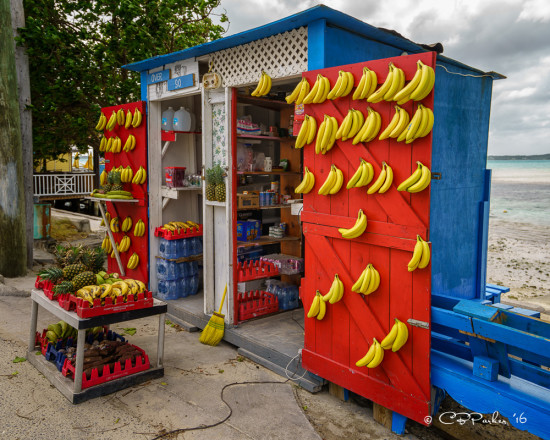 We toured Harbour Island end to end, taking time to top off the boat's supply of bananas when we came across a seaside fruit stand belonging to the self-proclaimed 'BananaMana'. For lunch we dined at an elegant resort where it was a relief to get out of the blustery air for respite.
We were back at the dock for transport home by 3 p.m. Small but powerful water taxis loaded up groups of passengers and then took off at high speed straight into the wind and waves, crossing the strait between Harbour Island and Eleuthera Island in excellent form. On Eleuthera we were shepherded into waiting vans which then transported us some ten miles or so across the island, where we were shuttled again into another flotilla of water taxis that sped us back to Spanish Wells. Happy to have arrived at our final destination, we didn't envy the Nassau bound passengers who were in for a rough ride home on the final leg.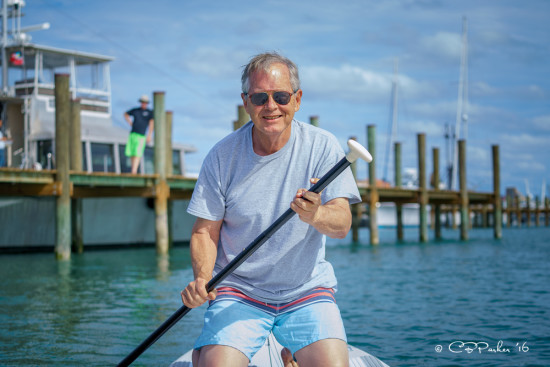 We were stalled in Spanish Wells for five nights while the wind continued to howl, but we were comfortable and protected in the marina, which was situated on a sheltered channel of clear inviting water where we took the opportunity to exercise our kayak and paddle board.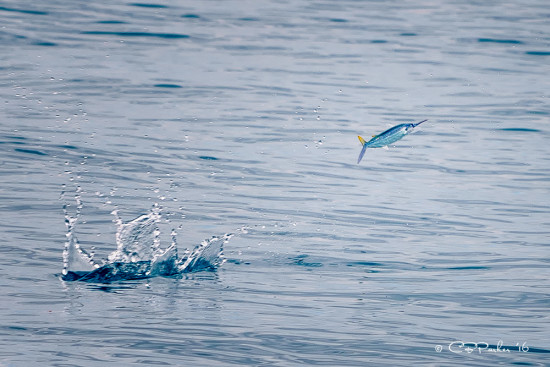 Finally, on Monday morning we had the forecast we wanted. By 4:30 a.m. we could hear the engines firing up as the frustrated fishing boats headed out for an early start. When we cast off at sunrise, a small parade of yachts was also exiting the harbor, all taking advantage of the high tide and good weather to move on to their next port of call. In complete contrast to previous days, the wind was non-existent and the sea glassy calm, making for ethereal reflective images and providing an opportunity to entertain myself by attempting to photograph flying fish and long toms as they skipped across the sea surface, fleeing from AVATAR's oncoming hull.
Click any image below for a full screen slideshow.