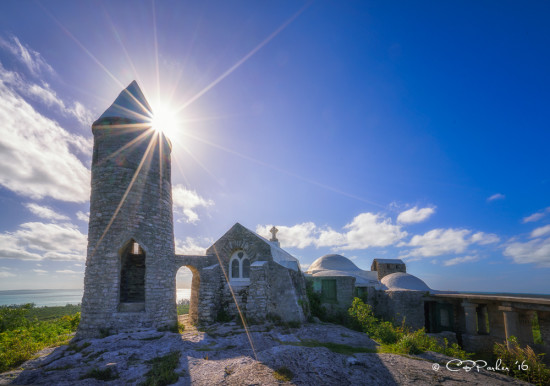 Our first night out of Spanish Wells, we anchored in a bay on Little San Salvador Island. History has it that Columbus first set foot in the Americas in 1492 on San Salvador Island some 50 miles away, but many residents of Little San Salvador claim that it was really here where he first landed. Now the entire island is owned by a cruise ship company and the inviting beach is lined with a kitschy Hollywood set of cabanas and a larger-than-life sized facsimile of one of Columbus's galleons. We arrived in the late afternoon just as one cruise ship was pulling away, and when we set sail in the morning, a second ship was approaching on the horizon en route to providing a day's entertainment for multiple thousands.
We went to sleep enjoying AVATAR gently rocking with the incoming swells, but by midnight the swells had magnified and the gentle rocking intensified to a vigorous pitch, accompanied by the sound of items subject to tipping over crashing in the galley. The rest of the night was relatively sleepless as the boat rolled uncomfortably back and forth. Promptly at daybreak Rod was at the controls proclaiming 'let's get out of here!' – his usual reaction to a rolly anchorage – and we set sail 90 miles south to Cat Island.
Named for a pirate Arthur Cat who lived here back in the day, Cat Island may have been my favorite destination thus far. The temperature has finally turned tropical, my first requisite for pleasurable cruising. Hawk's Nest Marina is located on the southern tip of the island, with a narrow entrance through a cut marked by big round red and white balls. As Rod navigated carefully in, we could look down into the clear shallow water to see a couple dozen eagle rays coasting over the sand and the silhouette of a medium sized shark. I was pretty fired up to get out the underwater camera and snorkel with the rays. But as we tied up and chatted with the dockhand, we asked about the snorkeling conditions in the pass and were informed that the marina had a resident tiger shark that was chummed (fed) daily with the remains of the catch of the day and consequently was more aggressive than your average tiger shark, which already possesses a reputation that rivals that of the great whites. We were advised in no uncertain terms that snorkeling in the marina and the entrance cut, despite its inviting appearance, would be a foolhardy venture.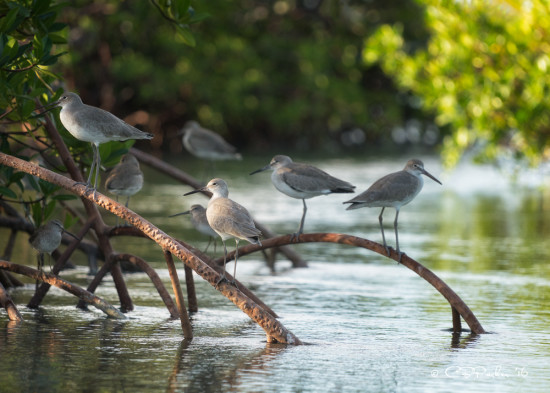 I had to content myself with kayaking up the inviting turquoise salt water river that meandered inland some 3 or 4 miles. Early the next morning I paddled into a narrow side passage winding through the mangroves and spent a peaceful two hours sneaking up on chattering flocks of willets that perched on the knees of the mangrove forest. When pressed too close they flew away, but only a short distance to the next bend in the channel where they would settle down again and I could continue to stalk them.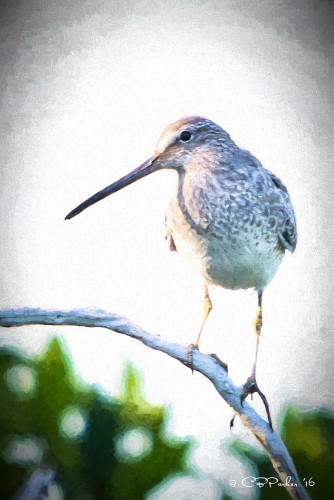 I have a new kayak. After 11 years and two generations of a much loved inflatable model, I had to find a replacement as the brand was discontinued and my faithful transports were getting threadbare. Back in North Carolina I test paddled a few models and settled on a peacock blue plastic hulled Hobie which is turning out to be a good choice. Sleek and sturdy, it is comfortable, maneuvers efficiently, and has eliminated the constant niggling fear that I might run aground and puncture the hull on a bit of sharp coral. The kayak's bright color might stand out in most environments, but here in the Bahamas it is camouflaged into near invisibility by the matching waters.
Cat Island was too big to explore by golf cart, although the marina provided free bicycles for our use. We rented a creaky car, circa 1999, and took a circle tour that included the notable Mt. Alvernia Hermitage built in 1939 by the legendary Father Jerome, also known as the Hermit of Cat Island. Father Jerome was trained as an architect in England before turning to the priesthood. When hurricanes in the early 1900s badly damaged the churches in the Bahamas, he was sent there on a mission, in his capacity as a combination architect/priest, to oversee the construction of hurricane-proof houses of worship. With thick walls and vaulted curved ceilings built of heavy native stone, the churches still survive, five of them on Cat Island itself. During his career he designed churches in England, Australia, and other islands of the Bahamas, served as a priest in the Church of England and later for the Catholic Church, and interspersed by several nomadic years in the U.S. and Canada where he worked a variety of occupations including mule skinner, railway teamster, and laborer, When he retired he returned to the Bahamas where he became legendary throughout the islands for his architectural achievements and his humble piety.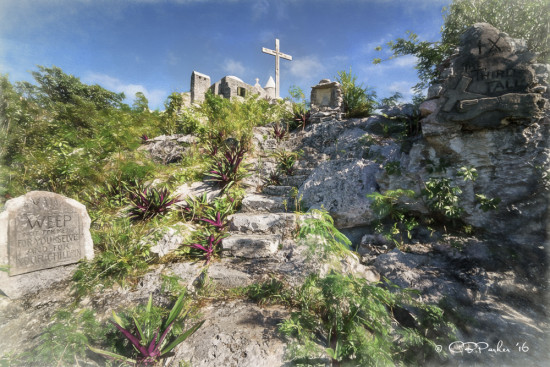 He built and lived out his latter years as a hermit in this miniature replica of a monastery scaled to fit his own very small frame. He chiseled out a steep and curving staircase of steps into the rock outcropping and lined the path with sculpted stone plaques representing the Thirteen Stations of the Cross, all carved by his own hand, Constructed on the summit of Cat Island's Como Hill – the highest point in all the Bahama Islands at 206 feet – the hermitage commands a breathtaking 360 degree view of the island and surrounding seas.
Our next cruising destination was supposed to be the reputed extraordinarily beautiful island of Rum Cay, but when we called ahead to the marina we were informed it had been completely destroyed by Hurricane Joaquin this past October and was unlikely to be rebuilt. We are now approaching the swath of destruction that Joaquin, as a Category 4, plowed through the southern Bahamas, including Rum Cay and San Salvador Island, and from which they have not yet recovered. As a result we have adjusted our itinerary and are sailing instead to George Town on Great Exuma. A couple of nights there, enjoying the biggest city in the outer islands and topping off our fuel and supplies, and then we will be off the grid for the next week or so as we continue south, anchoring off remote islands en route to our final destination of Providenciales in the Turks and Caicos.
Click any image below for a full screen slideshow.