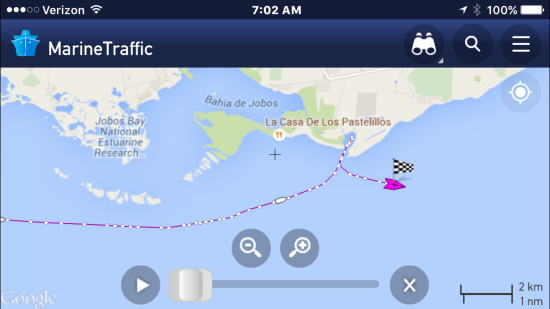 AVATAR is repositioning for our next trip in April to the US and British (and maybe Spanish) Virgin Islands. She left the Turks and Caicos a week ago and is heading further south into the Caribbean by way of the Dominican Republic and Puerto Rico. Mike and I are home in Tucson catching up on real ife and monitoring the boat via AIS tracking on our computers!
But yesterday when I woke up and reconnected with my iPhone, two voice mail messages from Captain Rod were waiting for me. I played the first one and all the alarm bells went off – and then I played the second one and burst out laughing. Oh, the joys of cruising.
I've attached the actual voice recordings so you can enjoy Rod's Kiwi accent in person, with transcription below each one.
Hey Carol, this is Rod. Hey this is just a bit of a heads up. We just had a helicopter and a police boat. They're now making us go into a harbor, they're escorting us into a harbor. Not sure if if this is a problem, or not a problem. I've no idea what's going on. We're on the south coast of Puerto Rico. I'll let you know more when I know more.
Hi Carol, disregard the last message. We're underway again. We were escorted into a port. We were boarded by a whole lot of officials, customs immigration, police, everybody. The reason being, the helicopter saw our white stabilizers when it flew over us this morning and suspected that they were packages strapped to the side of the boat – ha ha ha. Tell you what, pretty scary stuff, but anyway we're underway again.
And for everyone's edification, here's a couple of helicopter view photos of AVATAR with her underwater hydraulic Naiad stabilizers, aka "packages", which actively operate to keep the boat upright and steady as she travels through the seas. Usually they're not exposed to the air like photo #1 shows in heavy weather sea trials. When you take a close look at photo #2 you can rather sympathize with the suspicions raised by the helicopter crew!