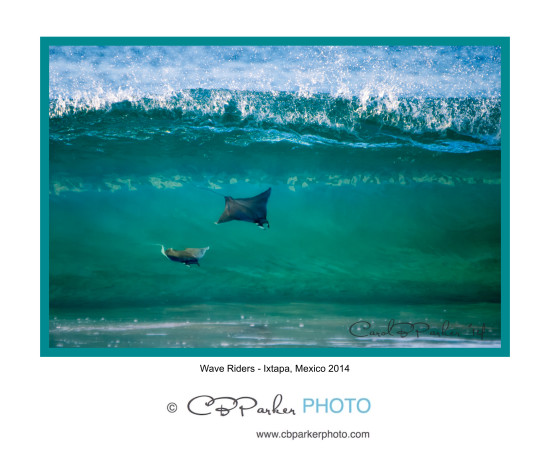 Months ago I entered two prestigious photography contests and today I received notification that BOTH judging panels had selected my image 'Wave Riders' for top honors in their final selections.
The San Diego Museum of Natural History had 1251 entries in their Best of Nature contest, of which 73 were selected to be on display in the museum from April 30 through August 28, 2016. This is the second time my photography will be displayed on the walls of this venerable museum.
Nature's Best Photography offers multiple competitions throughout the year, all celebrating the beauty and diversity of nature and receiving 1000s of entries each year. My entry was in the 2015-2016 Ocean Views category, where 'Wave Riders' was awarded 12th place. The image will be published in multiple magazines along with the other winners in the coming months.
These are pygmy devil rays, also called mobula, smaller relatives of manta rays. I captured the shot in Ixtapa, Mexico, which possesses a beautiful curving sand beach that was thronged with tourists and locals alike traversing the golden sand in the morning hours. The surf rolled in, backlit by the early morning sun, and I was startled to see the rays gliding in the breaking waves. With the sun backlighting the clear aqua water, they appeared suspended as if behind the glass of an aquarium. Intrigued, I invested quite a bit of time trying to capture the shot. As usual in these circumstances, I was shooting hand-held, kicking up the shutter speed to freeze action.
'Wave Riders' is available at my online store HERE