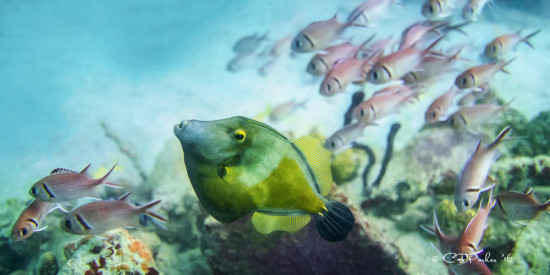 I'm enjoying a day of rest today after tramping all over the place yesterday sight-seeing in Puerto Rico. We sailed here a few days ago when the weather forecast was favorable, enjoying a mellow 40 mile cruise from St. Croix to Culebra Island (culebra translates as 'snake') in Puerto Rico. Capt. Rod's timing was impeccable, as the following day saw storm winds that churned up our new anchorage in the town harbor into a froth of whitecaps. The yacht just in front of us dragged anchor, and another had its dinghy flying in the breeze like a kite from a halyard until the owner got it back under control!
Even though the US Virgins and Puerto Rico are both US territories, it was still necessary to clear in. This involved motoring to shore in our dinghy and tying it to a rickety dock, then hiking down the road for fifteen minutes to the nearby airport where we presented our documentation to the customs officials and answered a few questions, before being officially welcomed to Puerto Rico.
Sailing here requires some caution as the waters are hazardous, studded with offshore reefs of coral and rock. We have a fair amount of experience with navigating these kinds of conditions from our years in the South Pacific, but still it requires travel by daylight, while the sun shines down to illuminate underwater hazards. Between 10 am and 4 pm are the best hours for the optimum sun angle. Polarized sunglasses contribute to the ability to see into the depths as well. Cloudy days are a no-go. But as a wise precaution, on our first sightseeing foray in AVATAR, Rod sailed an exploratory course from anchorage to anchorage, recording our track on the GPS chart plotter, a fallback in case a hasty exit was needed in less than optimum conditions. This held us in good stead one evening when the anchorage turned rolly and uncomfortable, and he decided to relocate for the night to a more protected bay. With the track to follow, we were able to safely sail to a new location even though the visibility was not at its best late in the day.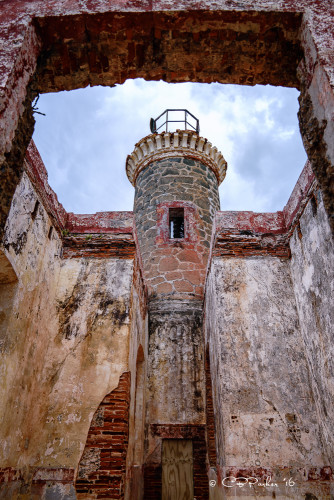 So far our favorite anchorage was Culebrita, a smaller island very near to Culebra, and a national wildlife refuge. On its summit is the ruins of an 1800s lighthouse, while the beaches welcome nesting sea turtles in the night. Kayaking one morning I counted seven turtles popping their heads out of the water for a quick peek before submerging again to disappear. At one end was a bluff and generous tide pools called 'The Baths'. The main beach offered soft sand and clear water for swimming. At the other end of the island was the so-called Snorkeling Beach. Everything was a quick hike along well marked trails, and at sunset we had a clear view to the west to enjoy the vibrant colors.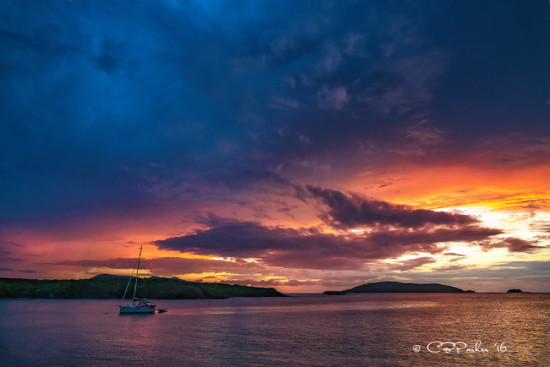 The Snorkeling Beach was almost a disappointment. Mike and I loaded up with masks and fins, and I refused to go without my heavy underwater camera – just in case. The scenery was very average, water cloudy and the outcroppings of coral dull under a coating of sand. But in the end my decision to lug the camera along paid off – as we found a stingray in the shallow water escorted by a trevally that resulted in a photo that strikes my fancy. The rays always seem to have a fish accompanying them; in this case another trevally tried to join in, but the first fish drove it off with conviction.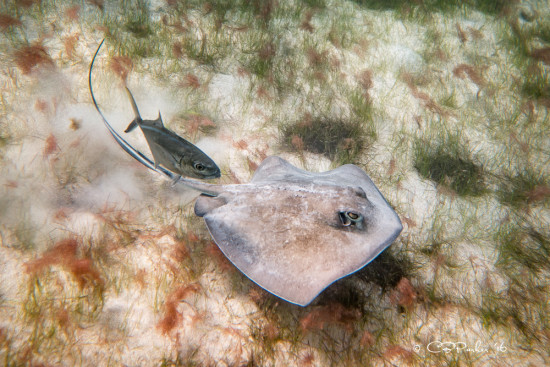 Making up for the Snorkeling Beach, very nearby were some world class dive sites. We dived one spot called "The Caves", but we never made it to the actual caverns as we were so smitten by the scenic gardens of sea fans, thousands of them, in a multiplicity of colors ranging from mint to lavender to mustard. They coated tumbled oversized boulders that created swim-throughs and alleyways and hosted a colorful collection of reef fish and a barracuda or two. The diving this entire trip has been excellent, from Cane Bay Wall, to the astounding cruise ship pier and nearby sunken wrecks in Frederiksted, USVI – all encrusted with colorful coral growth and infested with fish, lobster, shrimp, and other sea life.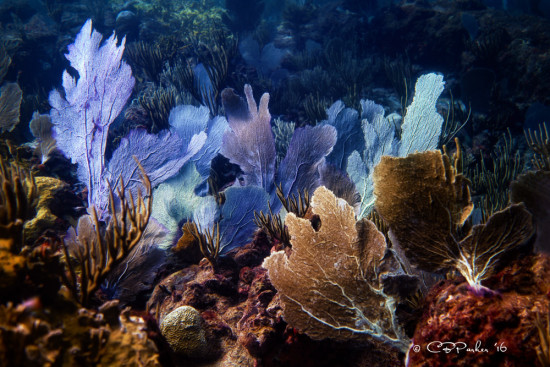 At the moment we are in a marina at a residential community called Palmas Del Mar on the main island's south coast. Yesterday we rented a car and did a drive-by tour of Puerto Rico, realizing as we did so that we hadn't allotted enough time to truly take in some of the sights. San Juan itself, the capital city, is a big, bustling metropolis accessed by a good tollroad system that covers the main island. The historic Old San Juan section is bounded by the twin fortifications of Castillo San Felipe del Morro ('El Morro') and Castillo San Cristobal, Spain's massive six-level defense works that were under continuous construction for 10 generations (250 years) starting in the 1500s. They guarded the fabulous wealth that Spanish treasure ships ferried between the New World and the Old. Old San Juan, the historic old town, is a walled city still charming with narrow cobbled streets, overhanging balconies, and ornate Spanish architecture. It would take days to explore the museums, shops, galleries and restaurants in this inviting city and our quick visit didn't do it justice.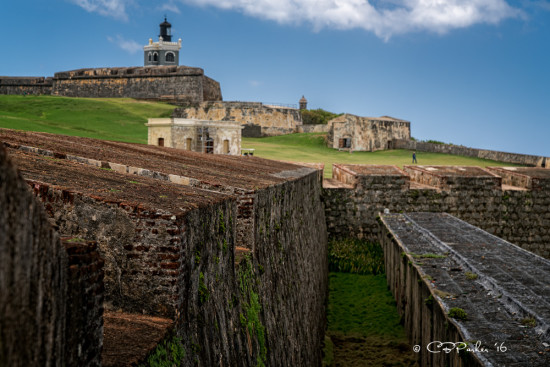 We're headed off grid tomorrow for more outer anchorages, and finish our trip in the Dominican Republic next week.
For a full screen slideshow, click any image below: