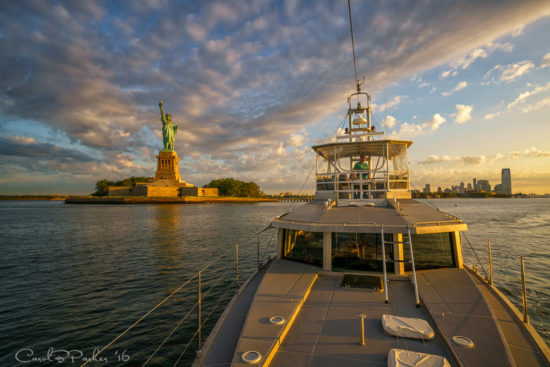 The original title of this blog was going to be "Indecision" until I processed the above photo and just had to headline it! My favorite saying that I picked up somewhere along the way is:  "We don't have a plan, and we're sticking to it".
About 10 days ago we caught up with AVATAR, flying from Tucson to Morehead City, North Carolina, which is about as much work as flying to Fiji, involving two changes of plane, layovers, weather delays, a rental car for the last leg – but at least no customs clearance. Early next morning we were underway with the vague plan of cruising the Chesapeake and perhaps hanging out in the Tidal Basin in downtown Washington DC for a week or two.
The weather quickly changed our minds – hot and humid, one day it hit 97 degrees, mild by comparison with Tucson summer temperatures, but with the humidity the heat index transformed into a "feels like" 105! Our aluminum hull was like a hot plate and we gave up on our usual barefoot fashion and wore deck shoes outside. Luckily AVATAR does have air conditioning, but shore excursions were exhausting.
Added to the mix was the threat of violent thunderstorms, apparently a staple of the weather during July/August in the middle Atlantic states. Rod, who grew up in New Zealand where this kind of weather is rare, has gained new respect for lightning having experienced a couple of blockbusters close up, as well as witnessing first hand a bolt of lightning strike the mast of a sailboat underway in Puerto Rico. Heading towards higher latitudes started looking more and more appealing, and ultimately we decided to go for it. The plan now is to head north as far as Maine, then circle back and perhaps transit the Chesapeake later in the fall.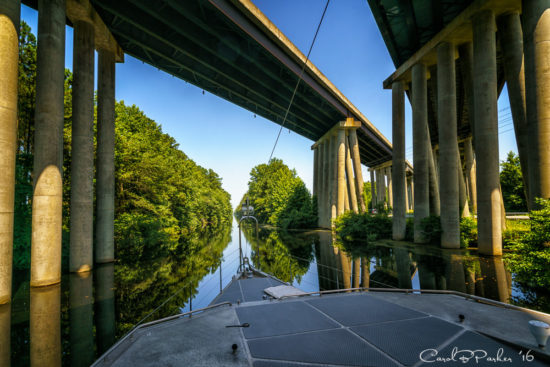 Still our trip north was scenic and entertaining. We took the Intracoastal Waterway through North Carolina, traversing the scenic coastal salt marshes until they opened into a network of rivers and sounds. We overnighted one night in Belhaven, an old-fashioned laid back waterfront village, and the next night in Elizabeth City, which promotes yacht layovers by offering free overnight dock space and welcomes newcomers with wine, cheese, and a red rose for the ladies. Sadly we missed out on the latter, but enjoyed the gratis parking space.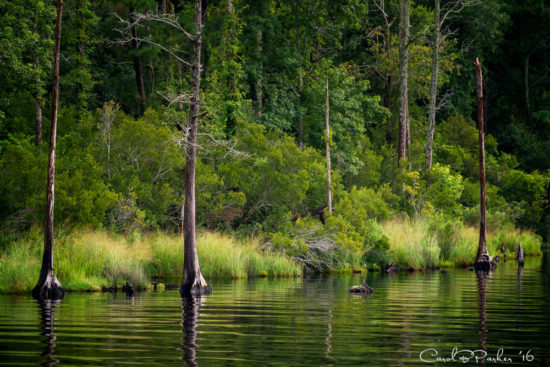 Elizabeth City is the gateway to the Dismal Swamp Canal which we had selected as our route of preference. En route to the canal we enjoyed a peaceful meander up the Pasquotank, a blackwater river winding placidly through verdant forests and lined with waterlilies and drowned trees. The waters here are the color of molasses, permeated with tannins from decaying vegetation, hence the term blackwater. Sightings of black bear, deer, and the occasional alligator are possible, but we only spotted a snake swimming its way to shore. We experienced a cruising first – scraping our lifting booms under low hanging branches as we squeezed past a newly toppled tree, not exactly an every day occurrence for our ocean-going AVATAR!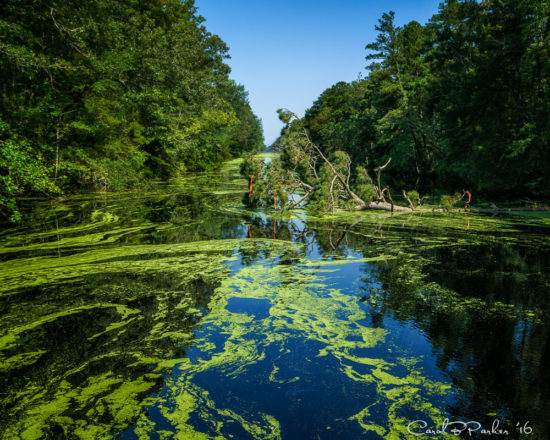 Before civilization encroached, the Great Dismal Swamp covered some million acres in the east. In the early 1700s a consortium of entrepreneurs that included George Washington and the father of Robert E. Lee purchased much of the land and built a 22 mile long canal through the swamp to expedite commercial shipping from Virginia to North Carolina. Clearing the original "ditch" was done by hand (slave labor), a torturous task hacking at the dense growth while immersed in swamp water waist deep or more. The canal itself is borderline for a boat our size, offering a six foot depth minimum (we draw five), which is compromised by invisible submerged logs or trees that have fallen and sunk out of sight below the surface. A maintenance boat comes through every eighteen months or so – apparently the next pass was scheduled for only a couple days after our passage! Mike counted the number of log bumps against our hull – thirty! Fairly harmless against our tough aluminum skin, but always a worry for our hydraulic stabilizer 'wings' protruding underwater.
The canal is accessed by locks on either end with an 8 to11 foot change in water level. On exit we were regaled by the lockmaster, who launched into a tour guide's spiel about the history and specifications of the canal, traded ballcaps with us (New Zealand for FPB), and when we gifted him with a queen conch shell we had gathered on a beach in the Bahamas, he launched into a four-step tutorial on how to blow the shell like a trumpet, complete with demo and a little tune as the finale. Having given away our one and only conch, we are unable to put his instructions to the test!
We spent two days in the canal, overnighting at a state park which also offered free docking, a museum, and walking paths into the woods. Apparently the swamp boasts the highest density population of black bears in the U.S., but the real health threat here is the prevalence of ticks carrying Lyme disease. Bug spray is highly recommended, as is a careful body check after any traipsing through the woods!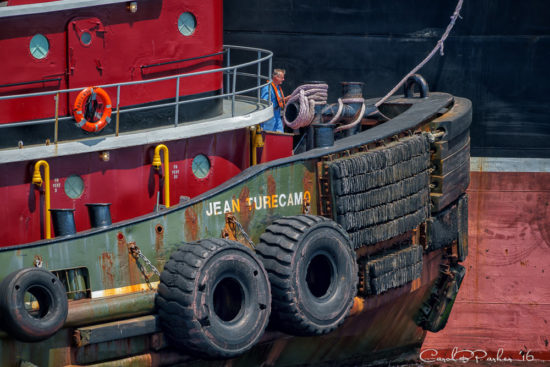 After our serene and bucolic journey through the swamps, it was a shock to exit into Hampton Roads where multiple rivers and the Chesapeake merge to create a huge harbor opening to the Atlantic. Norfolk Naval Shipyard, one of the largest shipyards in the world, is situated here. We sailed past towering gray painted warships, aircraft carriers, a hospital ship (snow white emblazoned with gigantic red cross emblems), and military helicopters throbbing overhead, not to mention the convergence of commercial traffic – barges, container ships, giant tugs, and more. We were delayed at one bridge that served as a railway crossing – with a long train stopped dead on the tracks on front of us. We spent a lengthy period of time floating in place watching the train and its six engines start and stop, moving forward (cheers) and then backwards (groans). When it finally cleared the bridge, a second train immediately took its place. Eventually we were able to pass under this last obstacle and head to an overnight berth in Hampton, Virginia, our last stop before departing the next morning at crack of dawn, heading offshore into the Atlantic Ocean for a 30 hour overnighter to New York City!
More to come, from the big city and points north!
To open slideshow, click any image below, Photos are copyrighted and registered with the US Copyright Office. Please respect.