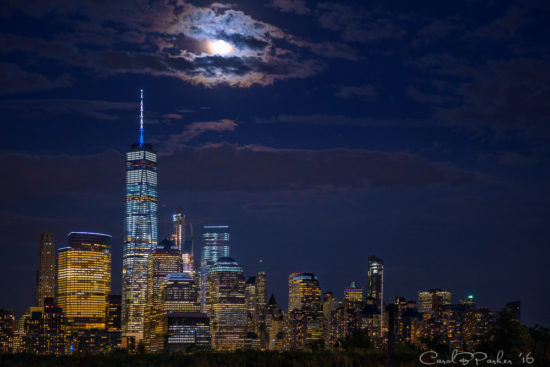 As related in my last blog, we abandoned our Chesapeake cruising plans and fled north to escape excess heat and humidity! Hindsight showed us that by doing so we avoided a perfect storm of violent thunderstorms, flooding, and record breaking temperatures!
From Virginia we sailed 30 hours nonstop to New York City and booked into a marina on the Jersey shore of the Hudson River. We had tried for a New York City berth and failed, but this turned out to be a serendipitous alternative. Our base across the river gave us an awesome panoramic view of the city skyline, perfect for photography!
I was dying to try for a night shot of the city lights, so when we went out for dinner at a nearby waterfront restaurant, I took my camera along too. The sun set while we ate, and about dessert time I started craning to peer through the windows and see how the light was developing. Finally I abandoned my dinner companions and switched into photographer mode.
It didn't seem polite to bring a tripod to the restaurant, but by balancing my camera on a railing I was able to hold it still enough to compensate for the low shutter speed needed to capture the night shot, complete with an almost full moon – delighted with the result! Thank you, New Jersey!
The marina was actually in a great location – walking distance to shops, grocery stores, restaurants and more, as well as the PATH underground transit system that passes beneath the river and delivers passengers to the New York side, up to and including the World Trade Center. We were a little slow figuring out the system first time through what with coin operated ticket dispensers, automated turnstiles, and no human assistants, but by the end of our short stay we were pros, although Mike did have to duck under a turnstile once when it rejected his ticket! We all played the tourist, hiking for miles along city sidewalks, hailing cabs, and checking out the sights. I dragged Mike to the B&H Photo Video Superstore – an unbelievable camera and electronics store, with huge inventory and a fascinating automated track system throughout the store that transports purchases to the checkout kiosks.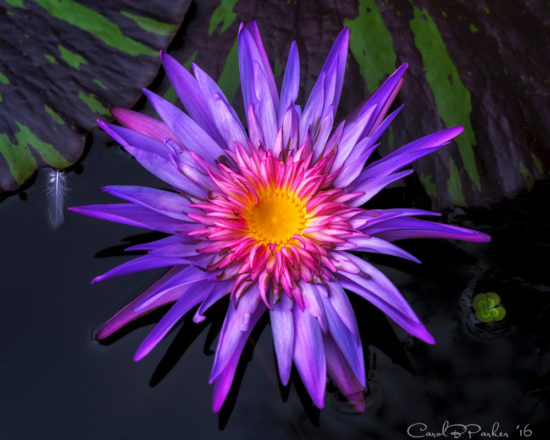 We also spent a few hours perusing the Whitney Museum of Art, where my favorite part was a rooftop patio with water gardens in galvanized tubs. Soon I was engaged in photographing the water lilies, captivated as much by their maroon striped leaves the size of dinner plates as by the crisply symmetric blossoms. Grey skies overhead helped to soften the light and damp down distracting reflections in the water. As we exited the museum, a squall hit our city block with gusting winds and a downpour that forced a cheerful crowd under cover for the duration and sent a line of food truck vendors scurrying to take down their awnings and umbrellas.
Rod and May had never seen a Broadway show, so we organized a night out, purchasing last minute tickets to see one of the iconic productions, Chicago, preceded by dinner at a Cuban restaurant and followed by a walk through the night lights and crowds of Times Square back to the PATH station.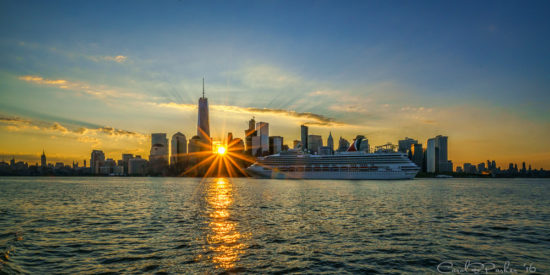 It was a whirlwind tour of the city, and we were footsore and ready to continue on our way two days later. With a scheduled early start, I was looking forward to be able to shoot at sunrise from AVATAR's foredeck, capturing harbor scenes lit by golden light and framed by a cooperative cloud formation. I was especially thrilled to successfully pull off an AVATAR selfie with New York's iconic lady of liberty! But this sunrise shot of a cruise ship arriving during the uncrowded early morning is another favorite, especially once I zoomed in and saw she was christened 'Carnival Sunshine'!
From New York we headed to the Hamptons, where we caught up with old friends, Angie and Eric Firestone, previously from Tucson but now residents of East Hampton where he owns an art gallery and she keeps her two horses. Eric Firestone Gallery is responsible for much of the artwork on my walls at home in Tucson, and even the watercolor seascape that hangs over the bed in our master cabin aboard AVATAR.
We invited Angie and Eric to join us in a tiki tour (that's New Zealand slang, by the way) of nearby islands, sailing on an idyllic day of sunshine and calm water to an island with an abandoned lighthouse. We enjoyed lunch aboard the boat, several hours of relaxing cruising, and great conversation catching up with each other's lives. Our guests arrived laden with a care package of farmer's market goodies that kept us provisioned for days after.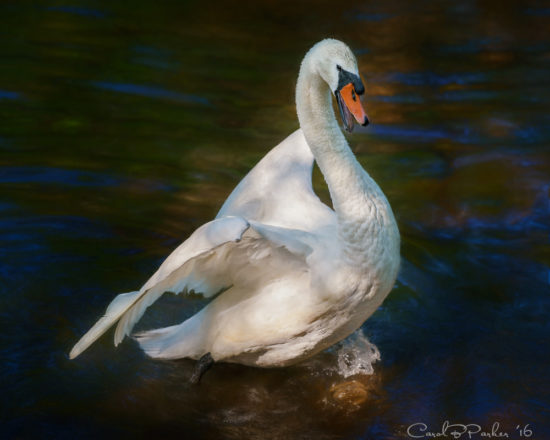 After the sail, Eric gave us a tour of his gallery and Angie drove us around East Hampton, with a brief stop to walk through a creekside park where I lucked into an off-the-cuff shot of a belligerent swan. He unexpectedly charged a terrier pup on a leash with much hissing and posturing, and I was barely quick enough to swing the camera around in time and catch him full frame in his fury. I never realized until this trip that swans were native to this part of the world, or that they were aggressive! I invested some time pursuing a flock by kayak, trying for a good photo without invading their space and inviting another attack!
More to come, plus a BIG ANNOUNCEMENT! Stay tuned.
Click on any photo below to open a full screen slideshow.