Our northernmost goal this trip was the state of Maine. From our stopover in New York and vicinity, we daytripped up the coast, stopping over in small New England port towns and enjoying a more rural atmosphere after NYC and the Hamptons. Historic lighthouses, serene anchorages, spectacular sunrises and sunsets, and opulent mansions from a bygone era offered a kaleidoscope of sightseeing opportunities. A never-to-be-forgotten highlight was an elegant evening dining at the historic New York Yacht Club's Harbor Court mansion overlooking Newport harbor, courtesy of another FPB owner (thanks, Chris).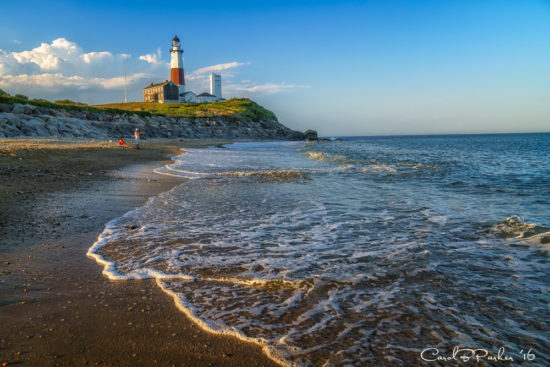 We had started our trip with a new autopilot system that had not been completely installed and tested, yielding to time pressures. Unfortunately, after about three days of cruising, the autopilot started hiccuping, suffering adrenalin-inducing lapses in which alarms started beeping and the boat lost all steering and voluntarily turned 90 degrees to port! This happened infrequently at first, but more and more often as time went on. As a result, we gave approaching yachts a very wide berth, and maneuvering into a marina for an overnight berth required more than usual vigilance. Rod became very accomplished at racing down two flights of stairs to the main console to hit the reset button, after which all would return to normal (until the next time). Our recorded navigation track shows some very interesting squiggles.
(As I write this, at the conclusion of our trip, the issue is being addressed and the installation is being properly completed according to factory specs, which should make these exciting episodes a thing of the past!)
The new autopilot can be controlled by a small remote that looks much like the electronic key fob for today's modern automobiles. It's possible to take a comfortable seat on the fly bridge and steer by the press of a button, port or starboard. As we approached Maine waters, famous home of the lobster, we had to start evading lobster pots with more and more frequency, dodging left and right with our little remote buttons to avoid tangling them in AVATAR's stabilizers or prop.
Even miles offshore we encountered occasional lobster buoys, and as we approached the Maine coast the waters became absolutely littered with them. A lobster pot is a large wire cage weighted with a rock or brick to sink to the bottom but still tethered to the surface by a cluster of small colorful buoys much like plastic balloons. Viewed through binoculars, the ocean's surface appeared to be blanketed in colorful confetti from literally thousands of pots set to trap lobsters.
With such an array of lobster harvesting paraphernalia, it's hard to imagine that these tasty creatures are not already extinct! However in conversations ashore we learned that the opposite is true – the lobster population is thriving! Reason #1 is that the fish species that feed on young lobsters have been depleted over the years and are no longer a threat to them. #2 is that sea urchins, also lobster predators, have dwindled for unknown reasons. Thus the lobsters are safe from their natural enemies.
And finally #3 – baby lobsters are practically hand-raised. Undersized juvenile lobsters crawl into the pots, drawn in by the bait. They are pulled to the surface by the lobstermen and then released. A lobster can easily be caught and released multiple times in it's young life, all the while enjoying generous handouts of free meals – until the day the measuring stick declares it a legal catch and off it goes to the pot.
Despite due sympathy for the plight of the lobsters, we thoroughly enjoyed the wide selection of recipes with which they were prepared on Maine menus – at bargain rates compared to the usual 'Market Price' seen in most fine dining establishments in other parts of the country.
As I write, our voyage has ended and AVATAR is currently 'on the hard' in Newport, Rhode Island, getting a new coat of paint on her bottom after the bumpy trip through the Dismal Swamp, and making sure the autopilot is performing without detours!
Click on any photo below to open a full screen slideshow. Photos are copyrighted and registered with the US Copyright Office. Enjoy, but please respect.