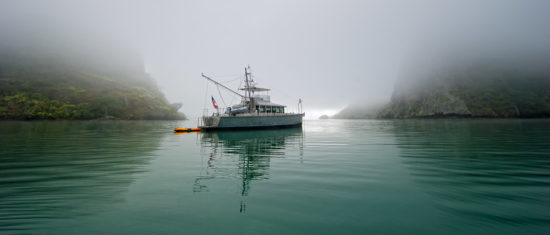 Today we are officially announcing that AVATAR is for sale.
Sadly, all good things must come to an end. After twelve years of cruising, first aboard Raven and then aboard AVATAR, for multiple reasons Mike and I have decided to move on to other things in our lives.
Cruising aboard these two wonderful yachts has been a life changing experience.
There are only 11 FPB 64s in existence, and AVATAR is the only one available on the market today in North America. She has been meticulously cared for and maintained by professional crew from Day 1 and is better than new. We have spared no expense in making improvements and changes as we saw fit.
FPBs are unique among cruising motor yachts. If you want a yacht to park in a marina and host cocktail parties for your friends, or if you want a high speed launch to race across the water, burning 100s of gallons of fuel per hour – AVATAR is not the boat for you.
But if your idea of boating is crossing oceans, adventuring to distant islands and foreign countries – all in safety and comfort aboard a yacht specifically designed for blue water expeditioning – then you won't find a better ride than AVATAR.
She is designed to be handled by a 'short' crew of two, but has room for professional crew if desired. She carries enough fuel capacity to sail 6,000 miles without refueling, and enough water storage to enjoy unlimited showers for days on end and then replenish the supply with the onboard watermaker.
For the underwater lover, AVATAR makes a superb dive platform with a dive compressor on board, an aft platform ideal for donning gear and stepping off into the ocean, and a large dinghy with a powerful outboard capable of carrying a heavy load of 4 divers and full gear to a nearby reef.
She has a comfortable ride, even in rough seas, with self-righting capability – although with her quick pace and modern weather forecasting there is no need to ever encounter severe conditions at sea. Her rugged aluminum exterior is low maintenance and can absorb an impact without suffering damage.
In contrast AVATAR's interior décor, coordinated by a professional interior designer, is upscale and elegant featuring warm neutrals designed to showcase the owner's personal artwork, accessories and style.
Future FPBs are queued up in the builder's shed in New Zealand – and the current wait list for a new boat is four years. That means four years of staying on dry land waiting for your new boat, when you could be sailing tomorrow to distant shores.
AVATAR is currently berthed in Newport, Rhode Island, one of the most sophisticated yachting centers in the world. She is in the capable hands of a team of international yacht brokers, Berthon International and Berthon USA (with an office ten minutes away). Berthon has been the official representative of the entire FPB range since its infancy, and their representatives have in-depth knowledge of the line – it's history, design, and capabilities.
The FPB community offers continuous support for the lifetime of its boats. Backed by a team that includes acclaimed designer Steve Dashew (currently breaking in his own just-launched FPB 78), builders Circa Marine in New Zealand, the knowledgeable brokerage of Berthon International, and a brotherhood of passionately enthusiastic FPB owners, the experience of belonging to the FPB family inspires confidence that support is just a phone call or an email away.
From Newport you could be in Europe sailing the Med in a week's time, or exploring the northern latitudes of Canada, Newfoundland, Greenland and Iceland en route to the British Isles. You could be heading south to Florida and the Caribbean, stopping by Bermuda on the way. From the Caribbean you might choose to continue west through the Panama Canal and then north to Mexico, the west coast of the US, Canada and then Alaska – or instead continue further west to Hawaii, French Polynesia, and idyllic South Pacific islands. Alternatively just stay on the east coast and explore premium cruising grounds from Maine to the Chesapeake to Florida.
AVATAR has been there, done that! She has sailed some 40,000 miles to 22 different countries and we have had an absolute blast along the way. If you'd like to change your life – for the better – contact our Berthon team for details. If you are an adventurer, you can find no better ride than an FPB.
Sue Grant
Managing Director, Berthon International
Lymington, Hampshire, UK
Sue.Grant@berthon.co.uk
+44(0) 1590 679222
Jennifer Stewart, Alan Baines
Berthon USA
Newport, Rhode Island
Office: 1 401 846 8404
Cell: 1 401 855 8404
Jennifer.Stewart@berthonusa.com
Alan.Baines@berthonusa.com
PHOTO GALLERY – Click to Start