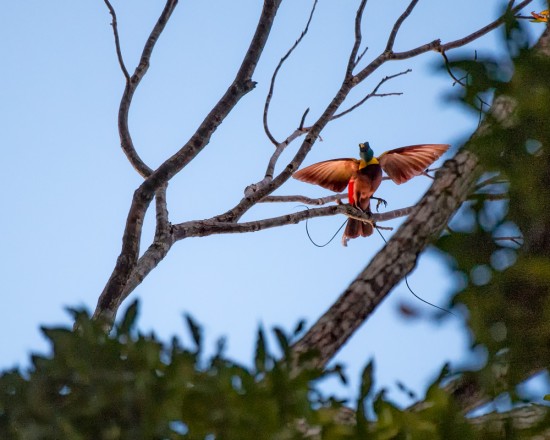 After scuba diving three times a day for five days in a row at Sorido Bay Resort, Mike and I were pretty well saturated.  We were rather relieved to learn that Saturdays are no-dive days at the resort, but as a substitute they offer a land & sea expedition to nearby Gam Island to observe the courtship display of the male red bird of paradise. In all there are 39 different species of birds of paradise throughout Papua New Guinea and nearby Indonesia, and they are wildly different from each other and outrageously decked out in fancy feathers. From an evolutionary standpoint, since they had no natural predators in this part of the world, their development skewed in the direction of elaborate courtship dress and dance.
For a real treat, round up the December 2012 issue of National Geographic Magazine.  Better yet, download it on an iPad. Over a period of eight years Cornell ornithologist Edwin Scholes and photographer/biologist Tim Laman went on 18 expeditions and shot 39,000 images to document every single one of the 39 species. Tim is some 6'7" tall and spent an uncountable number of hours during those eight years bushwhacking through wild jungle, climbing very tall trees (in excess of 150 feet), and sitting in blinds for hours on end, cameras camouflaged in leaves, to capture his wonderful photographs.  The iPad version offers sound and video to accompany the images. And the two men have published a coffee table book titled Birds of Paradise, Revealing the World's Most Extraordinary Birds.
Video Bird-of-Paradise project introduction (2,000,000+ views on YouTube!)
Video of Tim setting up a blind to capture his dream shot.
Video Bird-of-Paradise project by the numbers
After learning a bit about these exotic creatures (which originally I thought were either mythical or extinct), I was gung ho to join the resort's slightly more tame version of an expedition to see just one of these species in the flesh.  Unhappily we soon learned this involved setting the alarm clock for 4 a.m. for departure from the jetty by boat at 4:30 a.m. as the birds reserve their display for the crack of dawn.
On Friday night that timetable didn't sound so appealing, but the pre dawn trip turned out to be a pleasure.  Eight of us piled into the resort's open boat and set off on a balmy night under a moonless cloudless starlit sky.  It was about a 20-minute ride, the boat racing along at 20-30 knots powered by twin 50hp Yamaha outboards. The hull kicked up a significant bow wave and wake that sparkled with phosphorescence against the black water.
The fiberglass boat is built so that at speed its bow rises high out of the water. The helmsman in back can't see where he's going so a spotter perches up front and guides him with arm signals to zigzag around hazards like coral shallows and floating debris in the water.  They seem quite confident; although at that speed hitting a floating log in the water would be a disaster.
We landed on the dock at the village of Yenwaupnor on the far shore, still by dark of night.  There we were met a guide hired to lead us through the rainforest to the designated bird-watching location.  Armed with flashlights, backpacks, water bottles and bug spray in addition to our cameras, we followed him single-file in the dark along a narrow dirt path up hills and through the bush.
After a lengthy uphill trek, we finally arrived at our destination where three reclining benches constructed out of sticks sat at the base of a very tall tree, apparently the preferred stage for the red birds.  We took our places and settled in to wait, keeping quiet and only whispering amongst ourselves occasionally.  And we were all aware that recent previous bird-watching expeditions to this same spot had been a bust with the birds staging a no-show.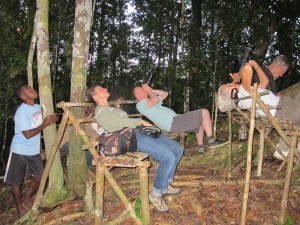 Our group was lucky though – as the night sky barely started to lighten, the first bird appeared high in the branches.  I had lugged a big telephoto (200-400mm) lens with me all the way from Arizona just for this purpose but even with that, looking through the viewfinder, he was just a small black spot high, 100 feet or more, in the black branches silhouetted against the sky. Soon more birds appeared – the grand total for the morning was seven according to our guide although I only counted five – but I was handicapped by the fact I was laying practically on my back with about twelve pounds of camera and lens squashed against my eyeball for the next forty-five minutes.
As the sun rose, the male birds put on quite the show to impress the girls – wings spread, feathers fluffed, head bobbing, singing and flitting from branch to branch. It turns out that the females nest in December/January during which timeframe they don't show up to join the party. With no audience, the males give up in discouragement.  That's why the bird-watching outings earlier in the month failed.  But nesting season had ended and the males were courting with renewed enthusiasm.
As soon as the sun rose in the sky, the show was over and we all hiked back to the village single file again. It seemed much shorter by daylight! We were back at the resort in time for breakfast and a day of leisure except for the packing required to prepare for our departure back to the US via Singapore on Sunday.
It took a lot of work on my computer to coax these photos out of the tiny black shadows captured by the camera so that you can have an idea of how glamorous these exotic creatures are. Do at least check out the links just to get an idea of how special these extraordinary birds are.