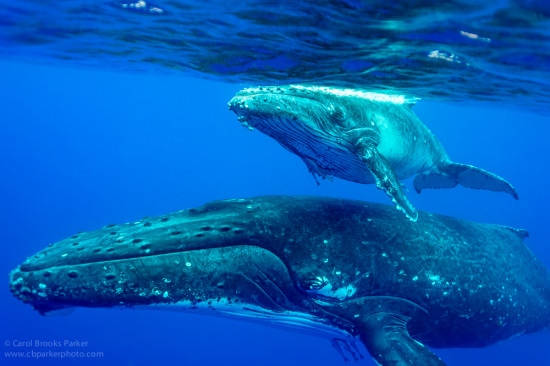 We've been treated to beautiful weather in Tonga, with sunny skies and crystalline clear water vibrant in shades of blue and turquoise. But day before yesterday a storm moved in bringing gray skies and rain. The colors wash out of the world and the ocean turns leaden, the green of the palms turns drab. It's a cozy feeling at night to sleep dry and warm in our bed listening to the sound of raindrops splattering on the hatch overhead. It rained steadily all night, but the downpour quit by morning although the sky was still overcast. We stayed in our anchorage all morning doing some housekeeping – laundry at the top of the list.
But after lunch we'd had enough of chores so we decided to change anchorages and scout for whales en route. The ocean was empty, no whales or whale watching boats in sight. We eventually spotted a very distant blow and were headed towards it with faint hope of catching up with the whale, when I saw a much closer blow 90º to port. So we changed direction and pointed AVATAR towards our new target.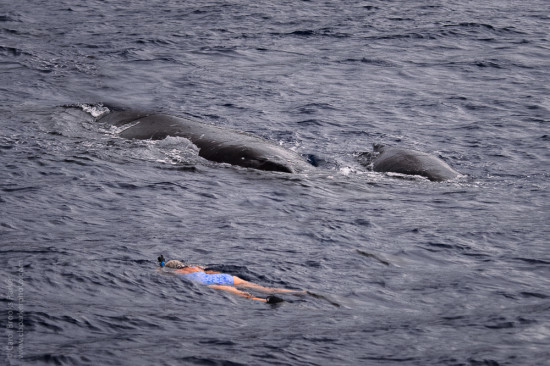 Luck was entirely on our side this time. We had found a mother and very young calf that were floating quietly near the surface. They showed no signs of avoiding us or moving on, and no licensed whale boat operators were in the vicinity. Finally I couldn't resist the opportunity and peeled off my clothes (swimsuit already on underneath) and grabbed the underwater camera which luckily was assembled and ready to go. There was a mad scramble finding the bare necessities – fins, mask and snorkel, forgoing wet suit and booties – and then I eased into the water off the boat's swim step ladder.
The two whales were maybe 150 feet off our stern and I located them instantly through my camera's viewfinder. I swam slowly and carefully towards them, minimizing any splashing or sudden movement, and they allowed me to approach without showing any inclination to depart. At one point they did aim directly away from me and I thought they would swim off, but instead their path curved around and slowly, imperceptibly, they drifted towards me until I found myself eye to eye with mama, while baby hovered on the surface just above her dorsal fin, the pair of them checking me out. I was close enough to feel I could reach out and touch her long pectoral fins, and eventually I had to start backpedaling in fear of making accidental physical contact.
The calf seemed very young to my eyes, but had a surprising amount of scarring on her body and her left eye was closed in almost every one of my 400+ photos – leading us to believe she suffered some sort tumble in the coral or other mishap. Mom was still giving her some assistance with surfacing to breathe. The opportunity to swim alone and close to a cooperating whale is a rare and awe-inspiring experience. It is truly amazing that a mother whale with such a young baby would be trusting enough to allow such a close approach without showing any signs of anxiety or disturbance. Perhaps she was giving her daughter a first introduction to the human species!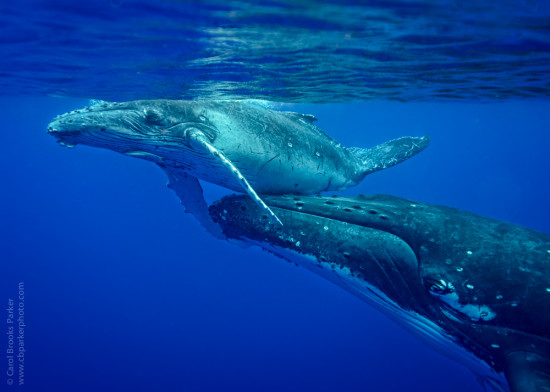 I was with them for quite a long time, photographing continuously when I caught a glimpse of a third whale further out. That seemed a good indicator to end the encounter so I started back towards AVATAR. On board they were all starting to call me back in at the same time. Apparently, unbeknownst to me, the third whale had arrived behind me at high speed and put on quite a show including a full body breach and some vigorous tail smacking. Whether he was showing off for the female, or indicating displeasure at my presence, is an unknown – but either way it was definitely time to get out of the water.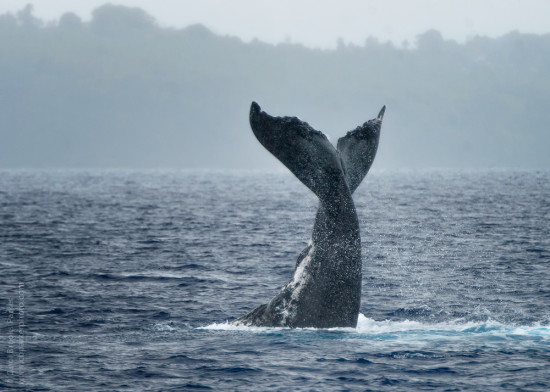 Mike on board had grabbed my second camera with the long lens – not knowing how to use it he took quite a few severely out of focus shots, but he did grab a frame of me snorkeling with the two whales, and also captured the impressive splash of the breaching whale (but sadly not the breach itself).  Still dripping, I switched cameras in time to catch whale number three still tail actively tail lobbing.
Gallery of Whale Photos