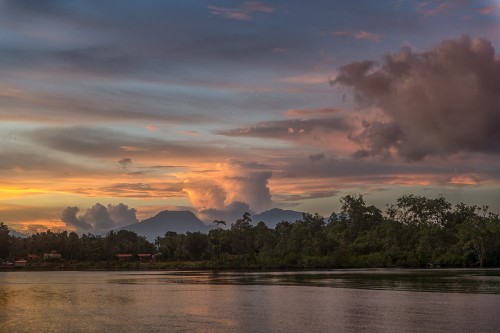 We are aboard a Boeing 737 en route from Guadalcanal to Nadi, Fiji – a day late because yesterday's flight turned back due to bad weather at its scheduled stop in Port Vila. Fortunately Air Pacific (soon to be rebranded Fiji Airways in 2013) sent the plane to fetch us the next day; otherwise due to non-daily flights in sold out status it might have taken us a week or more to struggle home.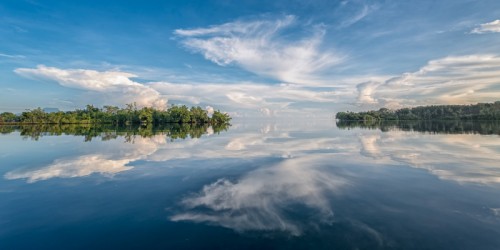 This blog is a catch-up and hodge podge of memories and overall impressions of our Solomon Islands adventure, with a play on the word reflections. First off, the literal interpretation. The waters were placid and calm the entire trip, sometimes so tranquil that they transformed into a giant mirror. Sky, clouds, rainbows, islands, boats, even flying fish were reflected upside down in the sea, creating some rare photo ops. The morning we sailed away from Mbaeroko Harbor was the most memorable, even to the point of being able to photograph flying fish in flight.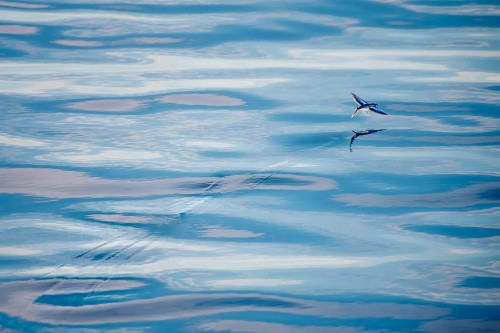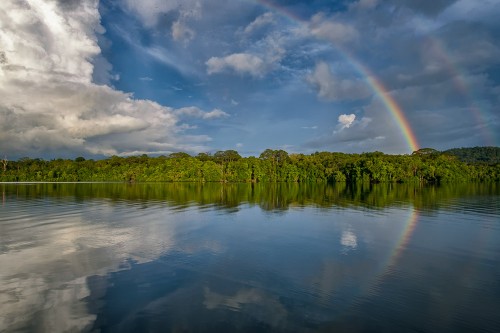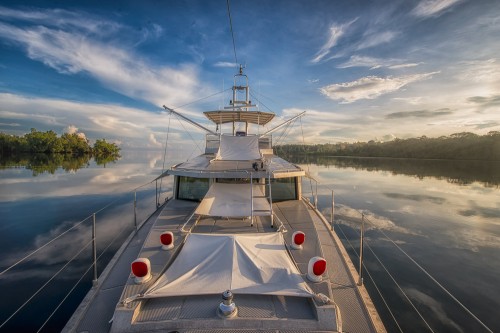 Everywhere we anchored we were approached by canoes looking for a sale, up to six at a time. Sometimes we were offered fruit and vegetables from the gardens, or a bag of cowrie shells (complete with unwanted cockroaches), or WWII relics including Coca Cola bottles. We learned yesterday from a WWII collector in Honiara that these bottles could be worth as much as $30, even though they look almost exactly the same as the classic green bottles still available today. But mainly we were offered carvings.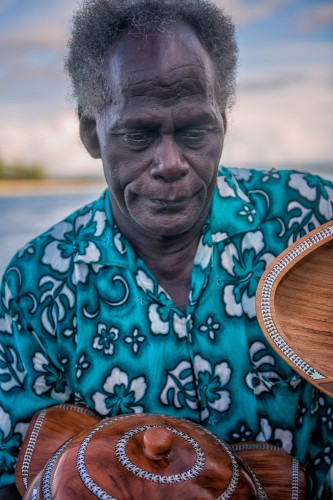 Solomon Islanders are accomplished carvers. Working primarily in kerosene wood, rosewood and rare ebony, embedded with pearly nautilus shell in intricate designs, the carvers skillfully create a variety of sophisticated works. Subjects range from towers of intertwining sea creatures called Spirit of the Solomons, stylized god heads called nguzu nguzus that originally adorned the war canoes of yesteryear (if the nguzu nguzu held a bird, the canoe was on a mission of peace; if it held a head, the war party was on a head hunting expedition), and utilitarian objects such as bowls, serving spoons, and so forth.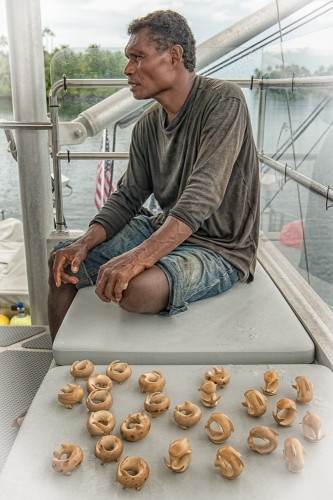 We accumulated several of these carvings over the weeks, more precious because we met and interacted with the artists. In Roviana we bought an impressive rosewood bowl with lid from Gordon, who spent four months carving it. In Uepi I bought a Spirit of the Solomons from Lamae, one of the PADI divemasters. From Rocky in Telina Village I acquired an ebony carving of a pod of dolphins. Rocky especially loves dolphins and was interested in DVDs of natural history. We were out of cash due to a multitude of prior purchases

so I traded him a DVD set of Blue Planet as well as some of my used clothing for his wife (dresses, t-shirts, etc.) the only time a woman was present in a trading canoe. She was reticent and glum until Rocky ok'd the trade (my last chance, he informed me) at which point she blossomed into smiles as she tried on my cast-offs for size. John Trevor in Nono Lagoon came early one morning to fetch me when I paddled my kayak inadvertently into crocodile land. He carves small sharks and dolphins from sago palm nuts, successfully circumventing my protests regarding limited space and weight in my luggage for the trip home.
Solomon Islanders in the outskirts have minimal opportunites for income. Often they charge a fee to anchor overnight, or to dive, snorkel, or visit something of interest. Generally a couple of AVATAR t-shirts or S$20 will cover it. Sometimes there is no fee at all. But in one locale in the Marovo Lagoon we had a disagreement over the proposed charge…a host of canoes and carvers had spread their creations across our deck but then told us their village chief had set a price of S$1,000 (equivalent to US$143) to anchor overnight and dive on the reef. We told the multiple carvers in their canoes to remove their wares and we would move on to a less extortionate anchorage, at which point they whipped out their cellphones to call the village chief and negotiate a more reasonable price.
We learned the origin of the name Solomon Islands. The first European to arrive here was a Spaniard sailing from Peru in the late 1500s. He found gold and thought he had discovered the lost mines of King Solomon. The islands soon were named Islas de Solomon.
We had an insight into global warming. Today the Solomons consist of nearly 1,000 islands of which some 350 are inhabited and six are considered to be major islands. 10,000 years ago, during the last ice age, the sea level was 100 meters (328 feet) lower than it is today. The now multiple major Solomon Islands were then one solid land mass, allowing cultures to easily migrate and populate new areas.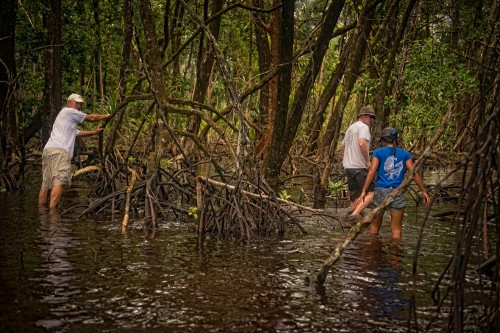 We gained a new appreciation of the importance of the Solomon Islands during WWII where the tide of the war in the Pacific finally turned in favor of the Allied Forces after months of deadly fighting. We traipsed through slimy mangrove swamps, crocodiles in the back of our minds, to see the crash site of an Allied plane near the Diamond Narrows. We scuba dived on several sunken ships including a Japanese freighter in Mbaeroko Harbor, bombed by the Allied forces as it was in the process of loading a jeep onboard by crane. The island is still pitted with massive bomb craters some 20-30 feet in diameter. We dived on the Toa Maru near Gizo, a Japanese transport ship that was reported to the Allies by coastwatchers and sunk in shallow water as it attempted a run down the Tokyo Express supply line. The massive sunken ship is 440′ in length and still contains a multitude of items including unbroken sake bottles. We snorkeled on a crashed Japanese Zero in Gizo's town harbor right next to the market, and scuba dived on a more remote US Hellcat navy fighter plane. We sailed past Kennedy Island where the surviving crew of PT-109, including future president John F. Kennedy, swam to shore after their PT boat was cut in half by a Japanese destroyer. They were rescued through the efforts of Solomon Islander coastwatchers. In Honiara a WWII collector told us he still finds human remains on a regular basis as he digs up relics in the swamps and creeks; the Japanese government collects the bones from him and sends them back home to Japan.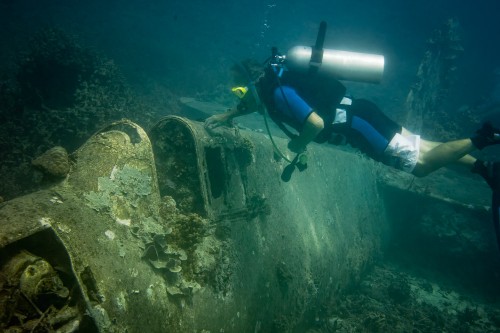 The remainder of our diving and snorkeling took place on beautiful healthy diverse reefs, some of the best we have ever seen. As we move closer to the equator we are seeing new species of fish, in addition to sharks, rays, turtles, cuttlefish, nudibranches (sea slugs), lion fish, sea fans and wildly varied coral.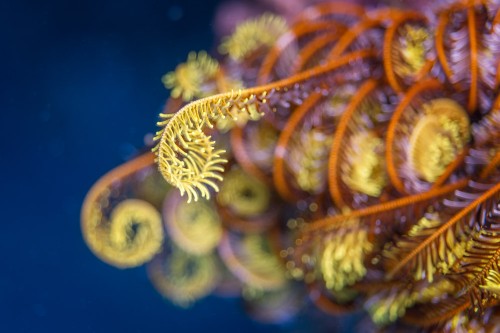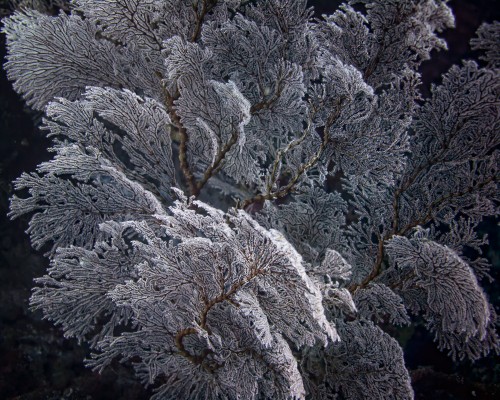 That's it for now; I'll be posting photo slideshows when I get home and sort through the best. The slideshow below contains additional images.