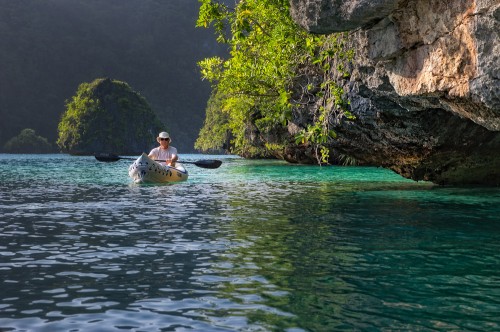 Our entertainment up til now has been strictly water based.  Kayaking, snorkeling, scuba diving and fishing have been the daily fare, star watching or a DVD on the big screen TV for evening entertainment – if we can stay awake past 8 p.m.!
The scuba diving in the Lau group was exceptional. Being so far off the beaten track, the reefs are unspoiled and the fish plentiful and curious about the bubbling newcomers in their midst. We enjoyed two awesome dives on a sunken pinnacle called Trigger Rock.  The sheer north face of the pinnacle wall plunges some 600 meters into the blue depths, making it a prime spot for the big pelagics to come cruising through.  Mike and I began the dive by pulling ourselves down hand over hand along Avatar's anchor chain to cope with the significant current.  Once we reached the wall we were able to tuck down behind it and have a more leisurely view of the reef.  We found ourselves swimming with fifteen or twenty tuna, rainbow runners, trevally and schools of barracuda, as well as the plentiful reef fish. When we concluded the dive, as soon as we pulled up anchor we dropped our fishing lines off the stern and circled the pinnacle a couple of times; it only took two minutes before a pair of dogtooth tuna hit our two lines simultaneously and it was sashimi for lunch!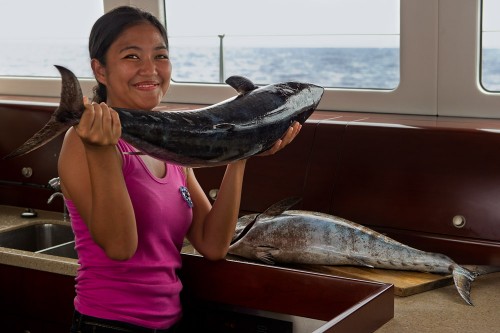 Another reef dive in the Lau presented us with a wall of barracuda and a big grey shark cruising through their midst, no doubt occasionally snapping up one or two as a snack.  There was a multitude of white tip reef sharks here as well, so curious about us that I had to backpedal to try to fit them in the viewfinder.  Mike, who is exceedingly wary of all sharks, asked me later why I didn't just bonk the pushiest white tip on the nose with my camera housing but in fact it was only curious – and white tip reef sharks aren't a threat.  Grey sharks, however, are the real deal and we treat them with respect.
Back in the Bay of Islands lagoons there was one big bommie in shallow water between two islands, not far from our anchorage.  A bommie is a sunken pinnacle rising up from the bottom, a cluster of rock, coral and sealife, and an omnipresent navigational hazard in Fiji.  This particular one was abolutely blooming with soft as well as hard corals and an abundance of creatures.  I took my camera and scuba gear and spent several hours poking into all its nooks and crannies until I was just about on a first name basis with the inhabitants, including a huge old lobster trying desperately to disappear out of sight under a ledge – but his 3 foot feelers poking out were a dead giveaway.
Fishing here has been awesome – normally we don't scout out the fishing in advance like we did at Trigger Rock, but truly our biggest problem has been losing our lures and hooks to fish too big for our tackle.  So far in the last month we have lost 4 lures, and one big fish even snapped the elastic bungee that Rod rigs up as a shock absorber for the lines. Our last fishing run netted us another even bigger dogtooth tuna, a rainbow runner, and a smaller tuna.  With the fridge full of fish, we have had to put the fishing gear away or we won't be able to eat it all by the end of our trip.